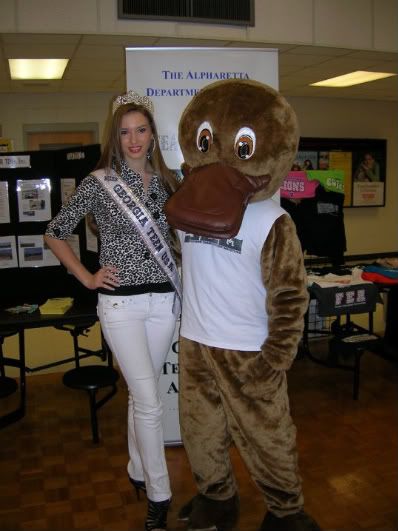 Results: Platinum Championship Wrestling, 04/30/10, from Avondale Estates, GA
The Brian Blaze versus Jamie Holmes match did not officially begin.
"Screamin" Marty Freeman with Ragdoll, Jaime Holmes, Chris Ganz and "Big Head" Hanson attacked Brian Blaze before the bell. Simon Sermon interrupted and issued a 6 person tag challenge for next week: Jaime Holmes, Chris Ganz, & "Big Head" Hanson versus Brian Blaze, Simon Sermon & mystery partner.
MATCH NUMBER ONE -- Kevin Weatherby and "Lemon Fresh" Mike Cobb versus The Washington Bullets (Jon and Trey Williams)
Jon took the offensive by wrenching Cobb in an arm wringer then flung him over in a arm drag. Weatherby tagged in and immediately met Jon's back elbow and was knocked out of the ring. Jon flipped Weatherby over the ropes back into the ring, when Trey tagged in for the suplex. Jon tagged back in and suplexed Weatherby as well, Trey tagged in once again, and the Williams brothers double suplexed Weatherby. Trey threw Weatherby off of the ropes then tripped him while Jon rolled up on top of him and secured the chinlock, Trey then laid out a drop kick to Weatherby's face. Weatherby fended off additional attacks from Trey by putting his boot him when Trey charged the corner. Cobb was able to tag in and assisted Weatherby in a double back elbow. Weatherby and Cobb then alternated punching Trey in the corner. Weatherby locked Trey in an arm bar, then tried throwing him from the ring. Trey blocked being tossed and met Weatherby with a spinning kick. Cobb and Jon then tagged in, but Jon met him first with a clothesline, then back elbowed Weatherby. By blocking Weatherby's kick, Jon spun Weatherby's foot, swung between the ropes and kicked Weatherby in the head. With Weatherby down, Cobb tried coming back by exchanging punches with Jon, but was felled by the backcracker, and Trey finished him with the cutter for the pin.
WINNER OF MATCH NUMBER ONE – The Washington Bullets (Jon and Trey Williams) with a cutter/backcracker combination via pinfall over Kevin Weatherby and "Lemon Fresh" Mike Cobb, with Jon Williams pinning "Lemon Fresh" Mike Cobb
The Konkrete Gorillaz announced that they were unable to touch the Washington Bullets outside of the ring or risk suspension, which they were unwilling to do since Nemesis earned a title match against PCW Heavyweight Champion, Shane Marx. Pandora then came out with Grotesque upset about being jumped after her matches, and let it be known that Grotesque would now be accompanying her from now on.
MATCH NUMBER TWO – Najasism versus The Phantom
Down 1-2, the Phantom immediately launched after Najasism by pulling his hair and landing penetrating punches. Najasism retaliated with a series of kick and chops. The Phantom knocked Najasism down with a clothesline then held him in a chinlock. Najasism forced the release by bouncing Phantom with a jawbreaker. Najasism monkey flipped towards Phantom and kneed him in the head. Najasism missed the cross body to the corner, and Phantom pulled him from the ropes and appeared to prepare him for a DDT, but instead put a submission hold on him. Najasism then reversed it with a roll up, then Phantom reversed, and the two would go back and forth exchanging control. The Phantom blocked Najasism's attempt at another jawbreaker and took out his leg, tying him in an Indian death lock. Najasism grabbed the ropes forcing the release. While Najasism held Phantom in a camel clutch, he forearmed Phantom's face. With all of Najasism's flying antics, kicks and chops, Phantom could not withstand the final Iron Leg and cannonball splash and was pinned. Najasism is up 3-1 in the best of seven series.
The Phantom frustrated with his loss, expressed through Najasism that should he lose the series, he would be taking his mask off.

WINNER OF MATCH NUMBER TWO – Najasism with The Iron Leg via pinfall over The Phantom
MATCH NUMBER THREE – Aisha Sunshine versus The Vandal (accompanied by Oscar Worthy, De La Vega and Miss Quinn)

Vandal struck first as Sunshine waved to her fans, but missed his body splash in the corner allowing Sunshine to hip-toss him. Sunshine dodged Vandal again by leaping into the air as Vandal charged, landing on his back and turning him in a sunset flip. Vandal then slammed Sunshine's face into the mat, and landed a knee drop to the back of her head. Vandal picked Sunshine up for a body slam, then downed her again with the side Russian leg sweep, followed by a leg drop. Sunshine managed to escape the pin by rolling Vandal up, then laying him flat with a clothesline. She laid in another clothesline in the corner, but missed her footing in the bronco buster. She was also unable to complete her "Ain't No Sunshine" facebuster, and Vandal took full advantage with his "Masterpiece" for the pinfall.
Sunshine did manage to complete her "Ain't No Sunshine" after the match, but quickly left the ring when De La Vega and Oscar Worthy stormed the ring.
WINNER OF MATCH NUMBER THREE – The Vandal with The Masterpiece via pinfall over Aisha Sunshine
Oscar Worthy fired Miss Quinn during "You're Not Worthy" after she received a singing telegram from her secret admirer, and Prima Donna, consort to "Awesome" Austin Creed, told him she could find him someone better.
MATCH NUMBER FOUR – CAMPUS Yellow, Red and Orange (accompanied by CAMPUS Green and Blue) versus Warhorse #2, #7 and #300 (with Johnathan Davis Wynn)
CAMPUS Strike Force came out with the message of teamwork, and just as that message was sinking in, Warhorses #7, #2 & #300 rushed the ring. Warhorse #300 knocked CAMPUS Orange down with the Spartan kick. CAMPUS Yellow immediately tagged in, and with his incredibly hard head fended off Warhorse #300, and Warhorse #7 when he tagged in. Warhorse #2 tried his hand as well, but was ganged up on in the corner by various CAMPUS Colors. Warhorse #7 tagged in again and danced around the ring, but once CAMPUS Red came into the ring for the first time, it was all over. He laid out Warhorse #2 and Warhorse #300 with clotheslines, then he grabbed Warhorse #7, flipped from a wheelbarrow, off the ropes into a modified DDT, now coined "The Final Solution" for the pinfall.
As the CAMPUS Strike Force clamored into the ring to congratulate their teammate, CAMPUS Red struck a familiar pose. He took off his mask to reveal he was Dwight Power!
RESULT OF MATCH NUMBER FOUR – CAMPUS Yellow, Red and Orange (accompanied by CAMPUS Green and Blue) with The Final Solution via pinfall over Warhorse #2, #7 and #300 (with Johnathan Davis Wynn), CAMPUS Orange pinning Warhorse #7
MATCH NUMBER FIVE – Michael Cannon versus Goth
Michael Cannon went to shake Goth's hand to begin the match, but received Goth's hand in a slap instead. Cannon shot behind Goth and held him in a waistlock, but wasn't able to hold it. Cannon then went for Goth's leg and attempted the half crab lock. He was never able to fully able to lock it in, and the two men chain wrestled on the mat. Goth shoulder tackled Cannon in the corner, followed by a chop and a clothesline. Cannon managed to get Goth in a neck breaker, immediately followed by a swinging neck breaker. After an exchange of eye rakes and punches, Cannon succeeded in the double leg take down of Goth and attempted a Boston crab, but Goth resisted the hold. Cannon then suplexed Goth, followed by a cross body splash, but Goth caught Cannon in mid air and slammed him on the mat. Goth then blocked Cannon's attempt at a DDT, picked him up and finished him off with a piledriver.
WINNER OF MATCH NUMBER FIVE – Goth with a piledriver via pinfall over Michael Cannon
Karle Harriston's scheduled interview was Scott Steele, but Scott Steele was distracted by Commentator J. Hanes' comments en route to the ring. Steele grabbed Hanes and dragged him to the ring, where he picked him up and body slammed him into a catatonic state. The locker room cleared to hold Steele off, but no on was a match for the brute. Hanes was carted off by Dr. Melei and orderly to be tended to by the paramedics.
MAIN EVENT MATCH NUMBER SIX – The Reverend Waylan Grimm versus PCW World Champion "The Natural" Shane Marx
As soon as the bell was rung, Grimm and Marx flew at each other with a tornado of fists. Marx rammed Grimm with a shoulder tackle to no effect. Marx then attacked with a splash and back elbow. Off of the ropes, Grimm reversed and shoulder tackled Marx, and added insult to injury with a slap to the face. Grimm left the ring, and Marx was quick to follow with flying fists. When Marx reentered the ring, Grimm, from the floor, grabbed Marx's head and pulled it down on the top rope bouncing Marx onto the mat. Once back in the ring, Grimm punched Marx and put him in an arm lock. With his free hand, Marx punched himself free. Grimm then downed Marx with a neck breaker, then pressed his boot onto Marx's neck. Once Marx was up, Grimm grabbed his waist and flung him back in a German suplex, then flipped him over and held him in a camel clutch. Marx forced the release with a jawbreaker. Now both men on the ground, Grimm bit Marx's head, but only infuriated Marx and he powered up. He punched Grimm, laid him out with a huge clothesline, and flung him off of the ropes into a shoulder tackle. Grimm grabbed Marx in a sleeper, but Marx blocked it and the spinebuster. Marx picked up Grimm and finished him off with the "Death Valley Driver" to retain his PCW Heavyweight Champion's Title.
WINNER OF MAIN EVENT – PCW World Champion "The Natural" Shane Marx retained the World Title with the Death Valley Driver via pinfall over The Reverend Waylan Grimm
PCW notes: Najasism and The Phantom will engage in match #5 of a best-of-seven series, with the fifth match to take place at the Academy Theatre on May 7th with the series three wins for Najasism and one for The Phantom. Nemesis will gain a title match at the next Eyedrum show on May 18th. Goth will have a match against Jay Fury on May 18th as well. The CAMPUS Strike Force and the Warhorses (with Johnathan Davis Wynn) will have an eight-person tag match against one another on May 7th, then a five-versus-five match on May 14th Scott Steele has been suspended from in-ring action for two weeks.