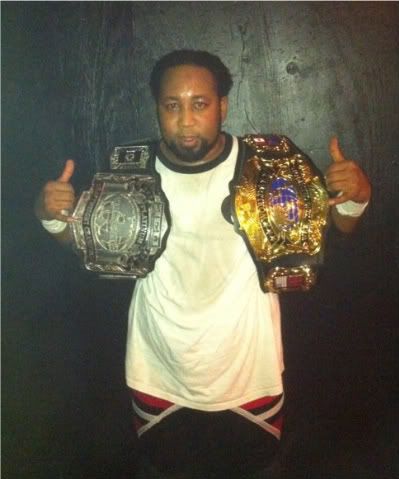 Results: Platinum Championship Wrestling, 01/28/11, from Atlanta, GA
- from PCW
Platinum Championship Wrestling at the Masquerade:
Pandora and Aisha Sunshine wrestled to a double-countout;
Chip Day pinned Mason;
Vordell Walker defeated Kyle Matthews by submission;
The Profits of Doom (Andrew Pendleton III & Dany Only) pinned The Washington Bullets (Jon Williams & Trey Williams);
Team MGCW (Curry Kid, Mr. X, Russian Assassin #2, Deadpool & Tyson Dean) pinned Team PCW (Jay Fury, Nemesis, Simon Sermon, Rick Michaels & Brian Blaze);
Grotesque beat Sugar Dunkerton by countout;
The Vandal pinned The Phantom;
By virtue of his pinfall following and amazing 450 splash from the top rope, "The Revelation" Shane Marx defeated Andy Anderson for his Mid-Georgia Championship Wrestling title in a title versus title match.

"The Revelation" Shane Marx is now the MGCW Champion, as well as the Platinum Championship Wrestling World Champion!
Platinum Championship Wrestling at the Academy Theater on Friday! Bell is at 8 p.m.
www.academytheater.org
119 Center Street
Avondale Estates, GA 30002
The main event is the new MGCW Champion (and PCW World Champion) "The Revelation" Shane Marx defending BOTH TITLES against The Curry Kid, winner of last week's Platinum Royal!

Stephen Platinum gets whipped by MGCW's "Screamin'" Marty Freeman and Miss Jackie, since Team MGCW managed to beat Team PCW at last night's card at the Masquerade!

The Gym Class Heroes debut for PCW and take on the Washington Bullets!

Sugar Dunkerton takes on Mr. Jones!

Plus: The debut as well of Jacob Ashworth! Nemesis addresses Jay Fury! Grotesque! And all of your other PCW favorites!