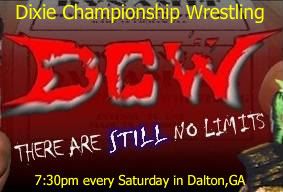 Dixie Championship Wrestling this Thursday, 11/26/09, in Dalton, GA



- from DCW



This Thursday on Thanksgiving night DCW will have a special preview show for Dixie Stampede 2! The show will start at the usual 7:30 show time. Only two matches have been set up so far but there will be many more to come. Come see the following stars in action......

-Wes "OMG" Blaze
-"The World's Greatest Athlete" Johnny Viper
-Johnny Blaze (New DCW Commissioner)
-The Allstar (DCW champion)
- Chad Case
-The Rymer Boys
-Big Red Adams
-The return of Aaron G!
-Brother Fusion (Jason & Brandon Collins)
-Tommy Gage
-David Gage

AND MORE!!

So make sure after you stuff your bellies and spend time with your family you come out and spend time with our family this Thursday night and don't miss Dixie Stampede 2 this Saturday. Both starting at 7:30 only at the DCW arena at 1243 Cavender Road, Dalton, Ga.