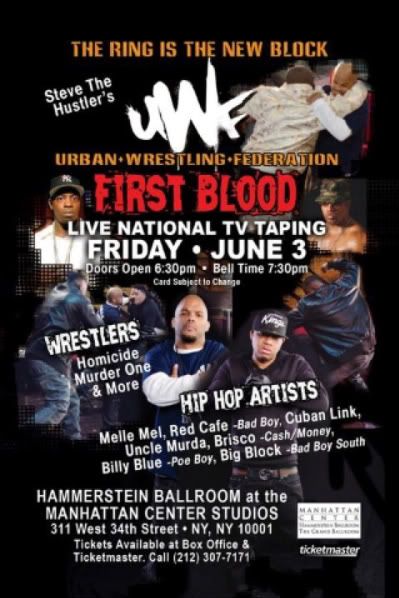 West Georgia's Murder One signs on with Urban Wrestling Federation
URBAN WRESTLING FEDERATION SLAMS ONTO THE SCENE WITH 'FIRST BLOOD' LAUNCH, LIVE IN NEW YORK CITY, AND FILMED FOR NATIONAL RELEASE ON PAY-PER-VIEW
UWF Combines Hip Hop Music And Professional Wrestling To Present The Feuds Of The Streets As Unprecedented Entertainment
MAY 18 – NEW YORK – It's no secret that there's been an age-old battle for turf domination brewing in America's urban neighborhoods; a battle that will now be settled inside the ropes. The ring is the new block. On Friday, June 3rd, disputes will boil over and total domination will be the prize, as the latest innovation in sports entertainment, the Urban Wrestling Federation (UWF), debuts live New York City.
The UWF is kicking off with a star-studded battle between the toughest thugs in the hip-hop community. Rappers such as Melle Mel, Red Café, Big Block, Uncle Murda, Brisco, Billy Blue, Gorilla Zoe, Gun Play and Cuban Link have signed onto the UWF. You can expect a variety of these hip-hop bosses to be in the ring for the fight to own their turf. In addition, these hip-hop 'shot callers' have teamed up with the most hardcore "no joke" professional wrestling thugs to ensure that top notch talent will hash out their feuds, leaving the toughest, most legit, 'fam' to walk away with full UWF domination.
By tapping the newest and freshest top wrestling talent, the UWF is set to debut a level of extreme in-ring warfare that guarantees over the top insanity and a never-before-seen experience. Seasoned wrestling veterans including HOMICIDE, SCORPIO SKY, and RICKY REYES will join a team of high-flying newcomers, who will deliver ground-breaking wrestling and hood-crazy stunts, changing the game, and setting trends for new world entertainment.
'First Blood' will go down at the famed NYC Hammerstein Ballroom at 311 West 34th Street in Manhattan. In addition to exploding in front of a packed crowd of thousands, 'First Blood' will be filmed for a dynamic national pay-per-view special, which will first air on Sunday, June 26th at 8:00pm edt (5:00pm pdt) with an encore presentation at 11:00pm edt (8pm pdt). Additional airings will occur on national cable and satellite networks including iN DEMAND, DIRECTV, TVN Ent, etc. New episodes of Urban Wrestling Federation will air on Pay Per View in September and November. Tickets for the live event are now available at HYPERLINK "http://www.TicketMaster.com" www.TicketMaster.com and at the Hammerstein Box Office.
Developed by television and live events icon, Steve 'The Hustler' Karel, his leadership ensures that UWF will be like nothing else ever seen in the music or wrestling arenas. Having honed his wrestling skills during his time with Extreme Championship Wrestling, Karel caused widespread controversy when he first cleared on national broadcast insane stunts that included barbed wire, pyrotechnic weapons and over-the-top in-ring-chaos.
Bob Chiappardi, Concrete Marketing CEO, will be spearheading the music efforts for the federation. He had previously worked with Karel on ECW, which spawned two soundtracks, one of which earned a Grammy nomination. Chiappardi also worked extensively with the WWE as a music supervisor on several soundtracks and music based promotions. "Music, typically heavy metal or rock & roll, has always been a part of wrestling entertainment", said Chiappardi. "As opposed to matches of the past where music has filled the background, the UWF will bring music to the forefront showcasing established urban stars and rising talent.
"By combining urban music and professional wrestling, we've created the ideal opportunity for dynamic and exciting entertainment while opening an avenue that guarantees higher attendance with new marketing and sponsorship opportunities," said Karel.
The full roster of UWF Talent includes:
Hip-Hop Stars
RED CAFÉ ( UNCLE MURDA ( MELLE MEL ( BIG BLOCK ( BRISCO ( BILLY BLUE (
( CUBAN LINK( GUN PLAY ( GORILLA ZOE
Professional Wrestlers:
HOMICIDE
RUCKUS
SAT'S / MAXIMO BROTHERS (JOEL & WIL)
MURDER ONE
SLYCK WAGNER BROWN
DIRTY ROTTEN SCOUNDRELS (DRS)
(EC NEGRO & KC BLADE)
SONJAY DUTT
EDDIE CARNAGE
EDDIE KINGSTON
FAMOUS B
LANCE LUDE
DAEMON SLUGGA
RICKY REYES
WILLE MACK
BIG BUSINESS
BUCK CHYLD
STEVE MACK
SABIAN
RASCHE BROWN
GRIM REEFER
BESTIA 666
SCORPIO SKY
GHETTO MAFIA (QEENAN CREED & DOPE)
BRIAN XL
FACADE
BC KILLER
LOWLIFE LOUIE RAMS
Officials:
Shawn Credle (Announce Team)
Robby Mireno (Announce Team)
Julius Smokes (Announce Team)
Larry Legend (Ring Announcer)
Referee Jimmy Dylan
Referee D Edwards
*Fight Card is Subject to Change without Notice.