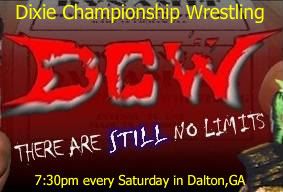 Dixie Championship Wrestling this weekend in Dalton, GA!

- from Dixie Championship Wrestling

THIS FRIDAY NIGHT DCW WILL HAVE A SPECIAL CHRISTMAS SHOW FOR FREE! COME SEE YOUR FAVORITE DCW STARS AND GREAT ACTION FOR NO PRICE AT ALL! WES BLAZE, TOMMY GAGE, BLACKJACK MILLER, BIG RED, JOEY IDOL, AND MORE TO BE IN ACTION! BELL TIME AT 7:30!

AND THEN THE FOLLOWING NIGHT DCW PRESENTS IT'S BIGGEST SHOW OF THE YEAR, CHRISTMAS CLASH! DCW WILL CELEBRATE IT'S THREE YEAR ANNIVERSARY AND WILL PUT ON SOME OF THE BEST MATCHES IN DCW HISTORY! THERE WILL BE A SPECIAL START TIME OF 7PM. DON'T MISS IT! HERE ARE SOME OF THE MATCHES ANNOUNCED FOR SATURDAY....

-WES "OMG" BLAZE WILL FINALLY GET HIS SHOT AT THE DCW TITLE AS HE FACES THE ALLSTAR ONE ON ONE INSIDE A STEEL CAGE IN THE MAIN EVENT!

-TOURNAMENT FINALISTS BROTHERS FUSION AND TEAM 1440 HAVE REQUESTED TO ADD THE RYMER BOYS INTO THEIR TAG TITLE MATCH. SO NOW, THE THREE TEAMS WILL DO BATTLE ONCE AGAIN AS THE TITLES HANG ABOVE THE RING IN A THREE WAY LADDER MATCH.

-JOHNNY BLAZE HAS BEEN PHYSICALLY PROVOKED BY TOMMY GAGE, GIVING HIM THE RIGHT TO RETALIATE. SO NOW ON DECEMBER 26TH, THE BIG BLAZER WILL BE ABLE TO GET SOME REVENGE ON GAGE AS THEY FACE OFF IN A BUNK HOUSE BRAWL.

-WE WILL HAVE OUR FIRST JACKPOT JUMBLE MATCH WHERE THREE MEN WILL FACE OFF WITH THE WINNER EARNING A CONTRACT THAT GIVES THEM A TITLE SHOT ANY TIME, ANY WHERE. JOHNNY VIPER, CHAD CASE, AND BIG RED ADAMS WILL SQUARE OFF FOR THE PRIZE.

-AFTER WEEKS OF TORMENT, OREO WILL FINALLY GET HIS HANDS ON HIS NEMESIS RICK HAYES. AFTER BEING LAID OUT BY THE MUDSLINGER TWICE, OREO HAS MADE THE MATCH A FINISHER ONLY MATCH! THE FIRST PERSON TO HIT THEIR FINISHER WILL WIN! IT WILL BE THE MUDSLINGER VS. THE COOKIE BREAKER!

ALSO IN ACTION: AARON G, SHAWN BELL, LIL' BUBBA, CHRIS CRUNK, KT HAMILL, KORRUPT, MATT "FREAKIN" GILBERT, AND MORE!

PLUS, REPRESENTATIVES FROM MWA WILL BE AT THE DCW ARENA TAKING YOUR VOTES FOR THE TURNBUCKLE AWARDS! ALL THIS AND MORE ONLY AT DCW! 1243 CAVENDER ROAD, DALTON, GA.