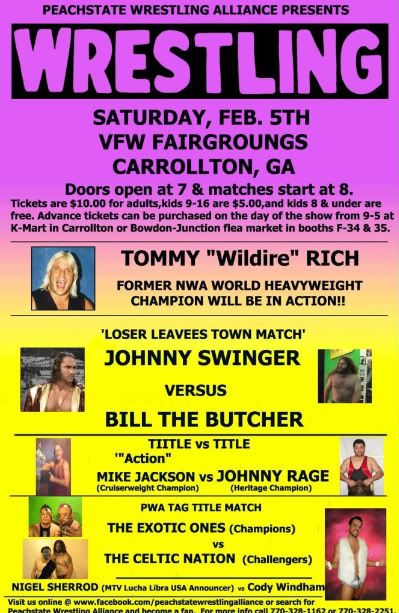 Peachstate Wrestling Alliance, 02/05/11, in Carrollton, GA
- from PWA
On Feb. 5th the PWA returns to the VFW Fairgrounds in Carrollton,Ga for another action-packed night of wrestling!
In the main event,Johnny Swinger takes on Bill The Butcher with the stipulation that the LOSER LEAVES TOWN! This stipulation was added to prevent future injuries,such as what happened to senior referee Terry Hudgins, as well as to protect the safety of the PWA fans.
The Exotic Ones will make their first PWA Tag Team ti...tle defense against The Celtic Nation! These 2 teams met in the semi-finals of the tag team tournament back on Jan.22nd,and the Celtics look to capture the titles after losing that match due to a time-limit coin toss.
"Action" Mike Jackson and Johnny Rage will meet in a Title vs. Title match where Jackson puts up his Southern Cruiserweight belt against Rage's PWA Heritage Title!
The returning Nigel Sherrod looks to stop the momentum of young Cody Windham,but he'll have his hands full with this impressive youngster!
And to top it all off, Former NWA WORLD Heavyweight Champion TOMMY "WILDFIRE" RICH will be wrestling on the show!! This is his first PWA appearance in almost a year and a half, and we at the PWA know he is always loved and treasured by the fans in Carrollton.
So make your plans to join us on Feb.5th, tell a friend and as always God Bless :)