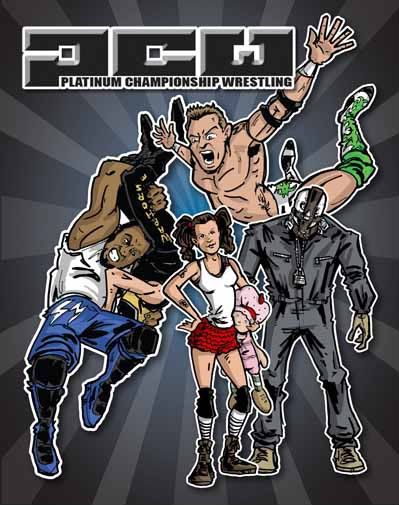 Platinum Championship Wrestling at the Academy Theater on Friday! Bell is at 8 p.m.
www.academytheater.org
119 Center Street
Avondale Estates, GA 30002
It's Platinum Championship Wrestling's First Anniversary show, and there's a bunch of PCW favorites returning, and a ton of suprises that are sure to happen!
In the main event, PCW World Champion "The Revelation" Shane Marx defends against the two top contenders, The Demi-God Mason and the mammoth Geter!
The men who are going to represent PCW in the five-in-five match at the January 27th show at the Masquerade (The Exotic Ones of Simon Sermon and Rick Michaels, and the Konkrete Gorillaz of Nemesis, Jay Fury and Brian Blaze) team up for the first time!
The Cowboy Way (Roscoe Ray and Jamie Holmes) renew their rivalry with The Washington Bullets (Jon and Trey Williams)!
Pandora takes on Curry Kid!
Master Jae takes on De La Vega!
Plus: The Vandal! Kurt Killgore! The Warhorses make a major decision! Aisha Sunshine! The return of Jonathan Davis Wynn! Miss Quinn! Grotesque! Conscience! AND MORE! Don't miss this show!