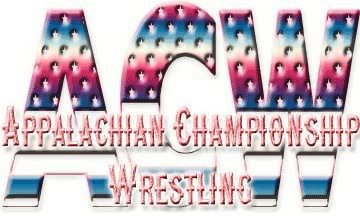 Appalachian Championship Wrestling this Saturday, 01/29/11, in Ellijay, GA
- from ACW
ACW kicks off 2011 with "New Beginnings," January 29th at the Gilmer County Civic Center in Ellijay, GA, with a 7 pm bell time.
The main event was established at the end of "Rage in the Cage" on November 20th. After defeating Leatherface in a brutal Steel Cage Match to retain the ACW Heavyweight Championship, The "Loose Cannon" T.A. Stanton issued an open invitation to anyone in the building for a title match in January. The crowd erupted when former WCW superstar Dave Diamond stood up in the front row and accepted the challenge. How will "New School" fare against "Old School?"
Also, the fallout from Leatherface's loss in the Steel Cage, which stipulated that he wouldn't be eligible for an ACW Heavyweight Championship match for the next 12 months if he lost. How will the monster contend with an up and coming tag team of Jimmy Lee & The "Contract Killa" Chad Silva in a two-on-one handicap match?
Plus after the time limit ended a great match between Thunder & Lightning and The Washington Bullets, the two teams will meet again, with no time limit this time. Who will prevail when there MUST be a winner?
The "Extreme Assassin" Josh Coulter debuted at "Rage in the Cage," and made an instant impact, leaving his partners alone in a six-man tag. The fans sided with Coulter, angering his partners, especially Drive-By. Drive-By has issued a challenge to Coulter for a one-on-one match, will it happen?
A "Battle of the Bulls" as two 350+ pound men face off one-on-one, it's Big Wood the Lumberjack against The "Hellraiser" John Arden!
And...a special Women's match as Crystal Fire tangles with StarStruck.
Tickets are $10 for floor seats, $8 for bleacher seats, kids 5 and under are free. For more information, please call 706-669-2674. Call and reserve your seats early and save $2 off each ticket!
Come help ACW kick off 2011 with a bang!