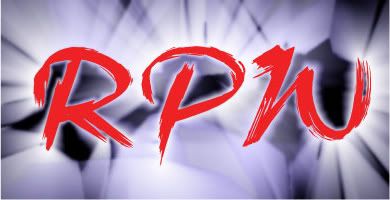 W
atch the new RPW TV episode here
- from RPW
The February 12, 2011 edition of Rampage Pro Wrestling begins with highlights from the main event of January 29's Rampage Reloaded supercard at Johnny G's. The video shows J-Rod perfectly connecting the Superman knee into the mouth of Shaun Banks to become RPW Heavyweight Champion for the first time!
Your hosts are Bill Behrens & Ben Masters.
J-Rod defeated Corey Hollis to retain the RPW Heavyweight Title
The show begins with J-Rod coming out to the ring with his newly-won title to speak to the fans. He explains that he's going to be a fighting champion and will duck a challenge from nobody. Jimmy Rave's music hits and he enters ringside with Corey Hollis at his side. Rave calls out J-Rod on his claims and suggests he put the belt on the line against Hollis right now. J-Rod quickly agrees. A referee enters the ring and the title match is on. Rave immediately gets ejected again by referee Dustin Robinson. As he's getting ejected, Hollis takes advantage of the chaos to clip J-Rod's knee. The next few minutes see Hollis working on J-Rod's knee in an effort to neutralize the Superman knee. Hollis goes for a senton splash from the top but misses. J-Rod immediately cradles Hollis in a half-nelson and pins him for his first successful title defense!
The celebration is cut short immediately though, as Bull Buchanan enters the ring and grabs the belt. He informs J-Rod he wants a title match as soon as possible before handing the belt back to him. Will J-Rod give Buchanan a title match?
Backstage, Charlie Cash is with his revamped Cash Vault. He declares whereas Pain and Killer Instinct couldn't get the job done, Bobby Moore, The Hate Junkies, and The Judge will do so. The Judge then speaks his first words to RPW fans in a deep, chilling baritone. He says Dr. Gayton knows what he's done and that the Judge will be his judge, jury, and executioner.
Back in the ring, one half of the RPW Tag Team Champions, Murder One, emerges. He says RPW tried to give them a night off since A.J. Steele suffered a shoulder injury during last week's main event against the Dark City Fight Club. M1 says that's not good enough for him and wants someone to fight. Bobby Moore rushes the ring and we have an unsanctioned brawl going on. The Hate Junkies enter the ring and Dany Only ends up throwing fire in the face of M1! Dr. Gayton, Frankie Valentine, Mr. Jones, and both referees rush the ring to get M1 assistance while Cash's guys bolt.
Bull Buchanan defeated Adrian Hawkins
Hawkins is looking to get back into the win column since his lost to Jeremy Vain in last week's brutal no countout, no disqualification title match. Bull, meanwhile, is looking at adding to his case that he should be the next #1 contender to J-Rod. Buchanan spends the entire contest overwhelming Hawkins with his sheer strength and power. Hawkins maintains just enough to stay alive every time until Buchanan hits the lethal lariat for an impressive victory.
Backstage, Kyle Matthews is reflecting on his contest with Jimmy Rave at Rampage Reloaded. In that match, referee Dustin Robinson accidentally got slurpee kicked by Matthews. Rave proceeded to rip off Robinson's belt and whip Matthews with it. In next week's main event, Rave will face Matthews again with 10 fans surrounding the ring wielding leather straps to keep both men in the ring. Matthews says he's ready, and he hopes Rave is too.
Hot Like Lava vs. Drew Adler & Michael Stevens
It is now time for this week's main event, as Hot Like Lava will take on Drew Adler & Michael Stevens. It is the first time since Banks returned to RPW in June 2010 that he is not the RPW Heavyweight Champion. As commentator Bill Behrens remarked, it is very weird to see Banks without the gold. Adler & Stevens have spent the last couple of months trying to prove they are a lot more than a comedy act. They once again showed that promise and upside with a strong showing against Hot Like Lava. Unfortunately, lack of focus or immaturity or whatever negative factor caused Adler & Stevens to start goofing off during their offense. This opened the door for Cru Jones to take both men down at once. Hot Like Lava hit the double kriss kross clothesline for the victory in this week's main event.