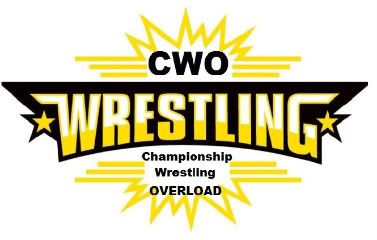 - from CWO
On Saturday night January 29, Championship Wrestlin Overload kicked off 2011 with a huge crowd of just over 150. The night strated off just as one would expect coming off the heels of the end of year controversy. CWO Owner KSL came to the ring with Chris Nelms, Tommy Lee & Kyle Hendrix to gloat about their win in War Games. However "The Bulldog" TW James, was not going to stand by and he came out to ask questions about why Tommy Lee had turned his back on him in the November 27th steel cage match. After Lee explained that he felt that he carried James and he was a waste of time, the 3 men attacked James until from the locker room came Roscoe Ray & Georgia Cowboy to even the odds. KSL's "Power Trip" then hit the high road.
The opening contest saw new comers Wild Child & Andy Anderson beat Junior & Damenchia in a tag team match, when Kyle Hendrix came out to get Junior's attention.
The action didnt stop there as the debuting Canadian sensation Shannon Dumass with partner Kris Viscious came out to challenge the Georgia Cowboy, who in the end walked away with a win over his Canadian opponent.
The third match of the evening was a triple threat elimination match, that saw Mid Georgia Heritage Champion take on James Powers and the deranged Jamie Holmes. In a classic wrestling match that saw tons of action and smash mouth brawling from these three, it was Roscoe Ray picking up the win and retaining his title.
After a short intermission, the action came back with a heated match between two former partners, TW James and Power Trip's newest member Tommy Lee. In the end it was KSL's interference who helped Lee pick up the win, however this fued is far from over, as those two men will face off again at Febuary 12th's My Bloody Valentine in Milledgeville Georgia.
The second title match of the evening saw Power Trip's Kyle Hendrix & a hired gun, Big Daddy Osborne, defend the CWO Tag Team Championships against the Irish Carbomb team of Neal McGuiness & Ash. Toward the end of the match Osborne walked out on his partner allowing the Irish Carbomb to steal the win & the championships!
The Main Event for the CWO World Heavyweight Championship, saw the champion Damien defend against Power Trip's "Ticking Time Bomb" Chris Nelms. These two men have fueded before and there was certainly no love lost. They once again fought all over the building and when Damien got the upper hand, KSL became involved once again trying to hand off his trusty tennis racket to Nelms, however the Georgia Cowboy was watching this match closely & was able to stop KSL's interference. Therefore Damien was able to pick up the win, and due to a prematch stipulation stating that if he won he would be allowed to choose his opponent & the match stipulations for Feb 12th.
The next event which is entitled "My Bloody Valentine" will take place on Saturday Feb 12, 2011 at the Centennial Center in Milledgeville Georgia will feature CWO Owner: KSL facing CWO World Champion: Damein in a "Tennis Racket on a Pole Match", in which the racket will be suspended above the ring and the first man to retreive it, will be allowed to use it. Also on the card, Chris Nelms will be taking on The Georgia Cowboy and fan favorite Junior will meet Kyle Hendrix! Adult tickets for this event are only $6, kids 6-12 $3 and kids 5 & under are always free. College students with a valid college id are admitted for $3!! For more infro please call 478 232 1432 or visit
www.cwowrestling.tk