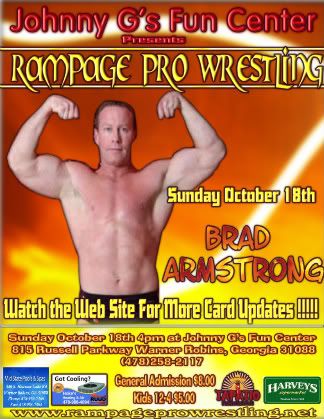 Brad Armstrong is coming to Rampage Pro Wrestling on Oct 18th
LIVE RPW TV TAPING AT JOHNNY G'S
815 RUSSELL PARKWAY
WARNER ROBINS, GA
OCTOBER 18, 2009
BELL TIME 4:00 P.M.

J-Rod
gets 5 minuets with
Charlie Cash

RPW HEAVYWEIGHT CHAMPIONSHIP
Micah Taylor (Champion)
VS
Jeremy Vain

Cash Vault w/ Charlie Cash
vs
GANZER & LIGHTNING

Also in action

Dr. Gayton, Colt Derringer , RPW Cruiser weight Champion "Chip Day", "Adrian Hawkins"

Plus we will get an update on the condition of Rob Adonis.
This and so much more ......SUNDAY, SUNDAY, SUNDAY .....RPW LIVE!!!!!!!