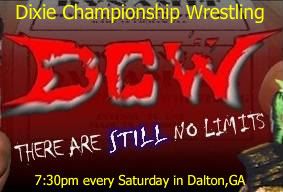 Dixie Championship Wrestling's "Halloween Kaos" this Saturday night, 10/31/09, in Dalton, GA

- from DCW

Ladies & gentlemen "Halloween Kaos" is going to be a great show on Oct. 31st. The first 20 kids that come into the building are going to get a free Tommy Gage mask. There is going to be free candy for the kids. There is going to be a free ticket for the next weeks show for the adult that has the best Halloween costume & a cash prize for the best Halloween costume for the kids 15 & under. Plus you can't forget the matches that are lined up for the car.

You have the 1st ever "Buried Alive" match between "Gigalo" Cody & Shawn Rage.

You are going to have a "Steel Cage" match between Matt "Freakin'" Gilbert & Tommy Gage for the DCW Lightweight Championship.

You got the "Gold Rush/Ladder Match" which the winner of the match gets a shot at any title in DCW at anytime he wants. This match will feature Antonio Thunder, Aaron Manu, "The One: Joey Idol, "The Messiah" Talon Williams, "The World's Greatest Athlete" Johnny Viper, and Wes "OMG" Blaze. This match is shaping up to be a great one.

You've got the DCW Old School Champion Evan Rymer vs. Kevan Rymer in a Bandana on a Pole Match.

You've got the the vacant DCW Southern Women's Championship on the line in a "4-Way Dance" between Amanda May, Logan Chase, Jessica Wetmore & Hailey Rage.

"Tables Match" for the DCW Tag-Team Championship. Between the Sky Dogs, "Big" Red Adams & Jason Fear and Sick & Twisted. The way you win this match is you have to put all members on the opposite teams through a table.

The Southern Outlaws will face off against DCW Champion Chad "The Bad" Case to see just who the dominate members of The Outlaw Army truly are.