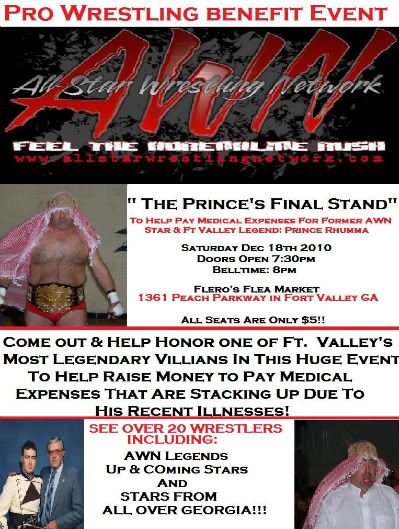 All-Star Wrestling Network's benefit show this Saturday, 12/18/10, in Fort Valley, GA
On Saturday Dec 18th over 20 of wrestling's most elite wrestlers will converge on the AWN Wrestleplex located at Felro's Flea Market in Fort Valley Georgia to raise money & honor one of AWN's most legendary villians of all time..... "The Madman from Afghanastain" Prince Rhumma!!!!!!
Doors open at 7:30pm and Belltime is 8pm
Admission is only $5
Proceeds will go toward helping pay the medical expenses of Prince Rhumma who has been suffering from illnesses since early 2010 that ended his 20 + years career which saw him regin terror all over Georgia and most notably in Fort Valley Georgia!!!