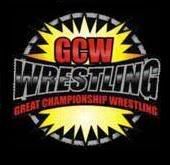 Great Championship Wrestling's annual Fred Ward Memorial show tonight!
-from GCW
Bobby Moore and Kyle Matthews will defend the tag team championships inside a steel cage against J-rod and Frankie Valentine, with the tag team champions manager, Princeton Gainey, serving as the special referee.

Johnny Swinger will seek revenge on Shaun Banks for the injury he sustained in July at the hands of Banks. This match will be a submission battle, with the only way to win, being to make your opponent say the words, I QUIT.

Murder One will challenge Jimmy Rave for the GCW Championship, the title that he lost to Rave on June 25th of this year. The two have subsequently met several times since, however with no clear cut winner. Thursday, September 17th, one man will prove, undoubtedly , who truly deserves to be called champion.
Make your plans to be there! Bell time 7pm at the Great Skate Plex in Phenix City, AL. Click here for more info.