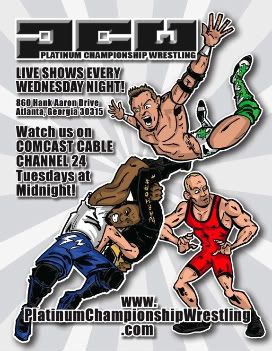 Results: Platinum Championship Wrestling, 09/23/09
from PCW-

Mason defeated Warhorse #18 (with Johnathan Davis Wynn) when Warhorse #18 was switched during the match with Warhorse #21, who fell victim to the Scales of Justice for the pinfall;
Miss Quinn informed The Vandal and De La Vega that they were being ordered by their mysterious boss that they had to beat someone up that night to qualify to work for him;
The Washington Bullets (Jon and Trey Williams) defeated The RJ Connection (Randall Johnson and Rueben James, with Tony Majestic) by pinfall following Jon's backcracker and Trey's diamond cutter.
"The Natural" Shane Marx beat Feral by pinfall;
Nemesis (with Jay Fury at ringside) defeated Warhorse #88 (with Johnathan Davis Wynn) with a standing senton. Afterwards, El Tarantula leveled Nemesis with a top rope clothesline and fled;
Pandora defeated "The White Trash Princess" Miss Dixie with the Pandora's Box. Groteseque attacked Miss Dixie after the match, and she had to be carried from the ring;
The Reverend Waylan Grimm defeated The Phantom with an over the shoulder backbreaker turned into a powerbomb;
During the musical performance by Najaism at the end of the show, The Vandal and De La Vega attacked Naja, beating him unconscious. The strange and beautiful woman who appears seemingly at random came to the ring and crushed The Vandal and Vega with a steel chair. Miss Quinn confronted the woman as the show closed.
PCW notes: Next Wed's PCW show will feature a main event of Mason takes on "The Attraction" Hayden Young.