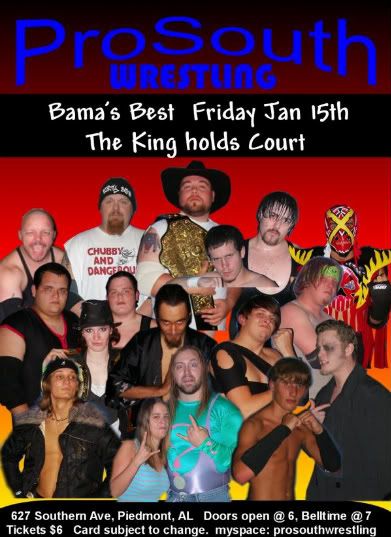 Jerry Lawler's appearance at Pro South Wrestling on 01/22/10 has been canceled!
- from PSW
Due to some unscrupulous tactics of a well known (self-promoting) booking agent, Jerry Lawler's scheduled ProSouth appearance on Jan 22 has been canceled and we are working with Jerry direct to re-schedule another date. ProSouth did everything possible to salvage this date but upon approval of the booking, the booking agent decided to rebook Jerry Lawler for his personal advantage thus costing ProSouth advertising monies as well as other misc deposits and obligations as well as robbing our fans the opportunity to see Jerry Lawler as advertised. ProSouth Wrestling regrets any inconvenience to our fans and accepts responsibility only for trusting a snake oil salesman. This will not happen again. ProSouth Wrestling will continue to bring you the best in Bama wrestling on a weekly basis.
Be sure to check out PSW's show this Friday night, 01/15/10, in Piedmont, AL.