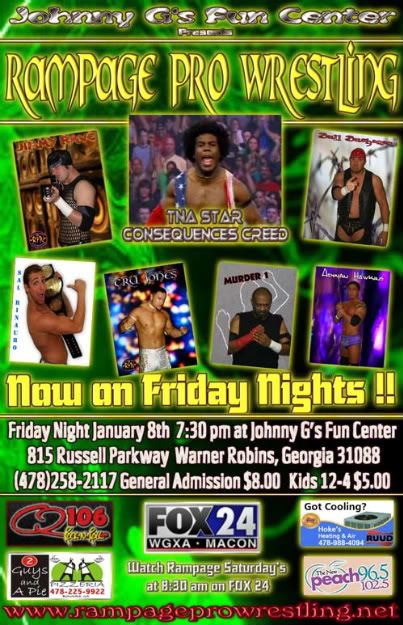 Rampage Pro Wrestling this Friday, 01/08/10, in Warner Robins, GA



- from RPW



Rampage Pro Wrestling returns re-energized and more focused than ever at making an impact in 2010! On January 8 at 7:30pm, RPW makes the move to Friday nights at the RPW Arena @ Johnny G's at 815 Russell Parkway, Warner Robins, GA 31088. Tickets are $8 for ages 13 and up, $5 for ages 4-12, and free for children 3 and under. Call 478-258-2117 for more information.

When he defeated RPW Intercontinental Champion Jimmy Rave and former RPW Tag Team Champions Murder One & A.J. Steele in a four-corners sudden death match, Cru Jones earned his much-desired second chance at Bull Buchanan and the RPW Heavyweight Championship. His first attempt at capturing the gold ended up with Buchanan escaping with the belt in a time-limit draw. Can Cru Jones make good on his second opportunity on Friday night and take the gold from Buchanan?

After being outed as the enigmatic "Big Man" that has been attempting to sabotage Rampage Pro Wrestling, Rob Adonis has had a bulls-eye placed on him by many RPW stars, but none bigger than his former best friend, Colt Derringer. Derringer's first attempt at exacting revenge from Adonis ended in a controversial loss. After Derringer inadvertently squashed referee Dustin Robinson in the corner, Adonis loaded his boot with a foreign object behind the back of referee Jeff McGowan, who was tending to Robinson, and struck Derringer with it for the dirty pin fall. To the chagrin of Adonis and Charlie Cash, this Friday night, Derringer gets another chance to face Adonis. However, this time RPW Commissioner Nick Patrick has assigned a special guest referee for this contest, none other than the owner of RPW himself, Dr. Johnny Gayton. Will Dr. Gayton call it down the middle or will he show bias against Adonis, the man who used his money to try to sabotage RPW?

For RPW Cruiserweight Champion Sal Rinauro, the responsibilities of being a double champion caught up to RPW's loudest mouth. Rinauro has been in a rut since losing the RPW Intercontinental Championship to Jimmy Rave. His constant attempts to request time off from RPW Commissioner Nick Patrick have proven unsuccessful due to his championship status. Not only was his last request met with denial, but Patrick put him in a match with Adrian Hawkins, a match where Rinauro refused to put the title on the line. Since both Rinauro and Hawkins are not particular fan favorites, the match proved most interesting. Unfortunately for Rinauro, Hawkins was able to score the huge victory. On Friday night, Hawkins victory will be rewarded with an RPW Cruiserweight Championship match. Can Hawkins make it two in a row or can Rinauro recover to keep the gold?

In an exciting development, we are proud to announce that TNA star Consequences Creed will be making his debut for Rampage Pro Wrestling this Friday night! What does the wildly-popular former TNA World Tag Team Champion have in store for his first appearance in RPW?

The only way to get an answer to this and everything else will be to join us this Friday night.

If you're tired of "sports entertainment" on television being your only option on Friday nights, we invite you to join us at the RPW Arena @ Johnny G's in Warner Robins on Friday night at 7:30pm for our explosive first show of 2010!