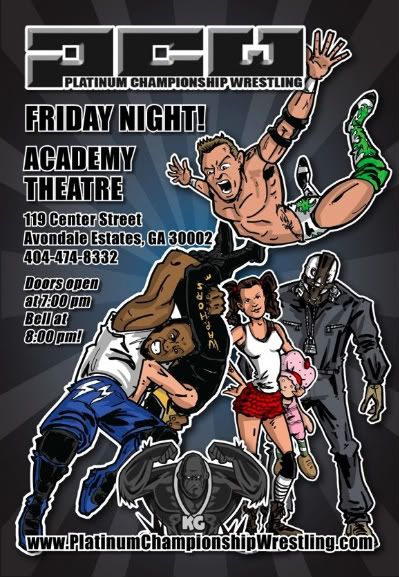 Platinum Championship Wrestling is back!
PCW will be running a show every Friday at the
Academy Theater
in Avondales Estates, GA.
See below for link to half price tickets.
Here is the card for this Friday's, 01/15, show:
Brian Blaze vsThe Vandal;


Pandora vs Warhorse #300 (w/Johnathan Davis Wynn);


Geter vs De La Vega;


Mason the Demi-God vs Najasism;


Micheal Cannon and Scott Steel vs Warhorses #7 and #21 (w/Johnathan Davis Wynn);


The Reverend Waylan Grimm vs "The Natural" Shane Marks;


plus appearances from the Konkrete Gorillaz, Iesha Sunshine and Dwight Power;
The address for the venue: 119 Center Street,Avondale Estates, Georgia 30002


Doors open at 7:30 p.m., bell time is 8:00 p.m.


Tickets are $8, you can go to
atlantix.com
to get half price tickets!
Seating is limited, so get there early!