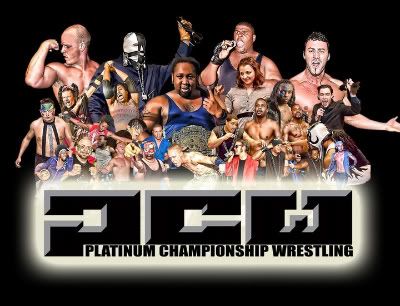 Results: Platinum Championship Wrestling, 07/15/11, fro Avondale Estates, GA
- from PCW
Completely Awesome (Zach Daniels & Chad Silva) pinned The Konkrete Gorillaz (Brian Blaze & Nemesis);
Tommy Daniels pinned four members of CAMPUS Strike Force, but was pinned by CAMPUS Red;

Warhorse 88 pinned Eric Walker;

Jon Williams pinned Don Yoder;

Match #5 - Lee Roy pinned Trey Williams;

Match #6 - Master Jae pinned Warhorse #2;

Match #7 - Chip Day pinned Ousman;

Main Event - Team PCW (Shane Marx, Mason, Aisha Sunshine, The Canadian Sheik & Michael Cannon) and Team Empire (Grotesque, Thomas Johnson, Sylar Cross, Pandora & Joey Kidman) fought to a double-DQ

Notes from the show:The Empire apparently has a great deal of influence over the show as of this point. The show was introduced as "Empire Wrestling," and next Friday's show (July 22nd) will start at 10 p.m. as per the Empire's leader (Marty Freeman) request.

Completely Awesome tied up their best-of-five series with the Konkrete Gorillaz at one win a piece. The Konkrete Gorillaz publically declared that Brian Blaze and Geter will represent the Konkrete Gorillaz for the remainder of the Tag Team playoffs, and that Nemesis would concentrate on Jay Fury and their feud.

Marko Polo wants a stipulation added to his match with "Record Breaking" Tommy Daniels at the Masquerade on July 28th, that if Marko Polo wins, Tommy Daniels must be his valet for 30 days. If Tommy Daniels were to win, both Marko Polo and Mr. Eric would be Tommy's valets. Tommy Daniels will answer that challenge on the July 22nd show.

By virtue of winning a match, Kurt Kilgore now lets the Warhorses use their numbers again, and has gone back to having the Warhorses use their own entrance music.

Kurt Kilgore and Timmy McClendon are set for a confrontation next week to address their differences.

The brawl between various members of the Empire (including every member of the Assassin's Guild) and wrestling representing PCW (which included the members of Team PCW and The Washington Bullets amongst others) involved 21 wrestlers. The conflict at the end between the masterminds behind the Empire ("Screamin'" Marty Freeman, Jonathan Malik, Miss Rachael) and Stephen Platinum ended with Stephen Platinum needed minor medical attention, and the Empire apparently having greater power and influence.