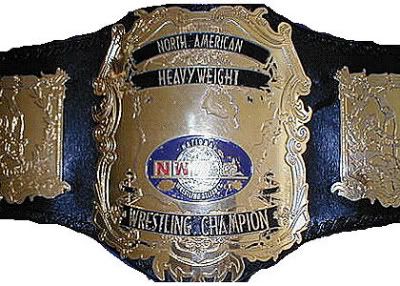 NWA NORTH AMERICAN TITLE TOURNAMENT UPDATE
CHARLOTTE, NC: By virtue of the Sheik's winning the NWA World Heavyweight title, the NWA Board of Directors vacated the NWA North American title. A tournament will be held throughout various locations in the NWA in the coming weeks and months to crown a new champion.
FIRST ROUND MATCHES:
ACE ROCKWELL defeated CHRISJEN HAYME on 5-5-11 at NWA MAIN EVENT in NASHVILLE, TN to advance to the second round;
KYLE MATTHEWS defeated CHIP DAY (replacing MIKE POSEY) on 5-13 at NWA Pro South Wrestling in Piedmont, AL to advance to the second round. Mike Posey forfeited his spot to fellow Jimmy Rave Approved team member, Day, when TNA iMPACT WRESTLING commitments created a schedule conflict.
SHAUN TEMPERS defeated CAPRICE COLEMAN on 5-14 at NWA Anarchy in Cornelia, GA to advance to the second round.
COREY HOLLIS defeated J ROD on 5-15 at NWA Rampage Pro Wrestling in Warner-Robins, GA to advance to the second round.
SECOND ROUND NWA NORTH AMERICAN TOURNAMENT MATCHES:
SHAUN TEMPERS defeated COREY HOLLIS at NWA CHATTANOOGA in Soddy Daisy, TN 5-20-11 to advance to the finals of the tournament
ACE ROCKWELL defeated KYLE MATTHEWS at NWA Anarchy in Cornelia, GA on 5-28-11 to advance to the finals of the tournament.
NWA ANARCHY Cornelia, GA 6-25-11 FINALS
SHAUN TEMPERS VS ACE ROCKWELL
CAREERS COME FULL CIRCLE IN NORTH AMERICAN TOURNAMENT FINAL.
By James Olsen
On June 25th 2011 at the NWA Arena in Cornelia, GA a new NWA North American Heavyweight Wrestling Champion will be crowned as NWA Southern Champion "The Seven Figure Deal" Ace Rockwell meets "The Temptation" Shaun Tempers in the finals of an 8 man tournament that included some of the top athletes in the NWA and took place over 3 states for 5 different NWA affiliates. The tournament was forced by the National Wrestling Alliance after the previous champion The Shiek defeated Adam Pearce to become NWA World Heavyweight Champion. Rockwell bested Chrisjen Hayme in Nashville, TN in round 1, and Kyle Matthews in round 2 Cornelia, GA. Tempers defeated Caprice Coleman in Cornelia, GA in round 1 and Corey Hollis in Chattanooga, TN in round 2. As fate would have, and as long time NWA fans know, these two men are no strangers to one another.
Ace Rockwell & Shaun Tempers started their professional wrestling careers at the exact same time, in the year 2001, under the tutelage of long time pro Greg "Big Wood" Hullander. Their story together goes back even further than that. Rockwell and Tempers became best friends while attending Soddy Daisy High School out of Soddy Daisy, TN (A suburb of Chattanooga) in the late 90's. Tempers, originally from Chicago, IL came to Tennessee via his father (Philadelphia Phillies farm coach and former minor league baseball great Sal Rende) who had great success as a player and later on as a coach for the Chattanooga Lookouts minor league franchise. Rockwell, who came from an upper middle class family, was born and raised in the Chattanooga area. The two kids with big dreams bonded on a variety of topics, and both had athletic ability, dabbling in school and youth sports, but their real passion was professional wrestling. This lead the two mischevious youths to try and and every way possible to break into the sport of professional wrestling yielding little results until their mutual friend Dan Wilson (former NWA Wildside announcer and current NWA manager) introduced the duo to Hullander who agreed to let them enroll in "The Big Wood's School of Hard Knocks". After months of hard work and completing the rigors of professional training, Ace Rockwell and Shaun Tempers entered the professional ranks as a tag team known as Pomp & Circumstance. Hullander had this to say of his students. "Rockwell and Tempers are two world class athletes with a passion for the wrestling business and talent that can't be touched by 98 % of the wrestlers in the world. They are born naturals with wrestling in their blood." The two childhood friends had accomplished a major life goal. They'd had a professional wrestling match. Little did they know this was only the beginning of their story.
Pomp & Circumstance (with early manager Aaron Voight) achieved almost instant success in many smaller promotions throughout Georgia and Tennessee, and got their first real break in front of a larger audience at Phil Heffner's NAWA Ring Champions promotion out of Rome, GA where they got the opportunity to face opponents of a calibur unlike anything they'd seen thus far. Tank, Iceberg, The late Big Boss Man, "Beautiful" Bobby Eaton, Ricky Morton, Kory Chavis, Murder One, Ray Gordy and tag teams like Jay Fury & Justin Ramey and Hardcore Productions just to name a few, were some of the competitors they were tested against and Rockwell & Tempers began to make a name for themselves. They were a cocky young duo, with a variety of flashy offensive tag team moves, but the secret to their continuing success was their team work. This is when the two were offered an opportunity in the National Wrestling Alliance via the NWA Wildside promotion. (It should also be noted that this is when the team parted ways with Voight who was an instrumental part of their early development as a tag team).
Though the NAWA proved to be an excellent proving ground, Wildside brought an even tougher level of competition as the hungriest young wrestlers from all over the country came to Georgia to appear on the nationally syndicated NWA Wildside TV Program, which by that point had gained a cult following around the country. For the 1st time in their careers P&C found themselves fighting for survival. It took them a long time to score their first big Wildside win and then after many savage battles earned their toughness stripes in a brutal feud with Tank & Iceberg that saw the two "pretty boys" shed buckets of blood and ultimately defeat the two behemoth's in controversial fashion for the coveted NWA Wildside (Georgia) Tag Team Titles. They also later joined the " Al Getz Enterprises" stable who waged war against Jeff G. Bailey's "NWA Elite". Through their exposure in NWA Wildside P&C received opportunities in wrestling promotions around the country, and during this time spent countless hours on the road together traveling from state to state. Though these travels helped them establish an even stronger reputation as a team to be reckoned with, they always remained loyal to the southeastern region. On April 30th, 2005 NWA Wildside closed it's doors and went out with a bang. On the eve of it's demise NWA Wildside presented it's final blowout, an event called " Last Rites" , and Pomp & Circumstance found themselves in the main event, managed by Al Getz teaming with former Wildside Champion "The Ticking Time Bomb" Scotty Wrenn in a 3 team War Games match taking on Bailey's "Elite Team" of Jeremy Vain, Mikael Judas and Murder One and the team of "The Original Gangsta" New Jack, Tank & Iceberg. Though Tempers & Rockwell went down in defeat that night, they shared the honor of the final Wildside match and earned more respect from the fans than ever due to the vicious amount of punishment they both recieved and dished out in that bout.
With NWA Wildside now a memory, it's successor promotion NWA Anarchy (owned by local fire chief turned promoter Jerry Palmer) reopened wrestling in the historic NWA Arena later in 2005. When Pomp & Circumstance returned to what they'd now staked as their home turf they were met with an unfamiliar response...cheers. Though they'd done whatever it took to get there, they were on top of the tag team perch and the fans admired that these two guys who looked like a couple "pretty boy jocks", could lay it all on the line in the ring. It was on December 30th 2005 that Tempers and Rockwell defeated 3 other teams to become the NWA Anarchy Tag Team Champions but the reign would only last one week as they lost the titles to the team of Jeremy Vain and Jason Blackman on January 7th, 2006. This would be the last match where Rockwell & Tempers teamed together for quite some time, as their bond unbeknownst to Rockwell had been injected with a fatal poison. While P&C had been climbing the Anarchy tag title ladder, the heinous "Devil's Rejects" stable had taken NWA Anarchy by storm and violent force. This was a stable of the most dangerous men in the history of the NWA Arena, "The Son of Satan" Azrael, "The Strong Style Psycho" Tank, and "The No Pain Train" Iceberg.....all masterminded by former Wildside host turned maniacal manager "The Reverend" Dan Wilson who were disgruntled with the establishment and even once threatened to ignite the "Church of Southern Wrestling" with the audience locked inside. Given the history between Wilson, Rockwell & Tempers was fairly well known, the curtain was finally pulled on the "elephant in the room" when following the tag title loss, Wilson appeared offering them redemption by abandoning their new found admiration and serving The Devil's Rejects. Rockwell refused the offer and Tempers accepted in front of the public as a mock human sacrifice was made out of Ace Rockwell in a horrific display of blood lust while his former best friend embraced The Rev and laughed at Rockwell's misfortune. Unbeknownst to Ace Rockwell, Tempers had made his "deal with the devil" long before.
Earning the nickname "The Sleeper Cell", Shaun Tempers later revealed he'd accepted the Rev's offer when the Devil's Rejects were nothing more than a devious plot, disguising himself in broad daylight the entire time and waiting like a cobra for the time to strike. He'd made it clear he was tired of being in Ace Rockwell's shadow and as the demonic prophecy fortold Tempers achieved great success as a singles wrestler, but it cost him his best friend and a few gallons of blood he'll never get back. The Ace Rockwell vs. Shaun Tempers feud of 2006 was at the heart of an even greater conflict, The Devil's Rejects vs. NWA Anarchy. Tempers with the Rejects did as many vile things to Rockwell as possible, including breaking his arm with a clam hammer. This is where we 1st saw Ace Rockwell rise to the occasion to an amazing level befitting the Champion he is today. After waging war for 6 months, Rockwell carrying the entire promotion on his back (literally, if The Rejects won the match, they gained control of NWA Anarchy) on July 22nd 2006 was the man who gained the winning fall of the War Games match, making Shaun Tempers submit by sticking the same claw hammer that broke his arm in Tempers' mouth. This was the end of the first chapter of Rockwell vs. Tempers, but it certainly wouldn't be the last. Word began to spread of the passionate and amazing wars these two waged against each other in Georgia and it wasn't long before promoters across the country were again demanding this duo yet again, but this time as opponents. Just going by the sheer volume of promoters who've booked this bout, it's clear that Rockwell vs. Tempers has gained a reputation as a must see fight. It wasn't until 20089 that the fans who watched them on television saw the Tempers/Rockwell rivalry renewed in Anarchy once more after a brief REUNION??!!
By all appearances Tempers, after 3 years as a singles competitor, had a falling out with The Rev and The Rejects. Given his reputation as a snake, Tempers worked extremely hard to prove himself and even convinced Rockwell to "put the band back together" for a short lived Pomp & Circumstance reunion tour . This unfolded as one of the most deep rooted and evil intended conspiracies in NWA Anarchy history and the end result was simply to lull Television Champion Truitt Fields into a false sense of security and after months of convincing him he'd finally seen the light, Shaun Tempers plunged the proverbial dagger into Field's heart and became NWA Anarchy TV Champion for the 1st time. Rockwell didn't appreciate being used as a pawn in his "old buddy"'s scheme, and the momumental rivalry was back on in NWA Anarchy and dominated the cards for almost the entire year, culminating in a Last Man Standing match, where Tempers came out the victor thanks to Wilson's chicanery.
In March of 2010 the egos involved became too much and the once mighty Devil's Rejects finally crumbled when Tank defeated Tempers in the Compound Death match in March 2010 which signified the end of the Rejects reign of terror. Tempers and Wilson agreed to a mutual parting of ways, with the agreement that they'd help each other out as needed. Tempers had done his time as a general in The Reject Army, but certainly wasn't enjoying the fame and notoriety that came with success any less. Now he was no longer the faithful warrior but the visionary of his own landscape, and with that came a re-branding. "The Temptation" evolved into a total package of looks, charisma, ability and tenacity with the meanest of mean streaks and a brain for business. In addition to being a 3 time NWA Anarchy Tag Team Champion, 2 Time Ultimate NWA Tag Champion, and 2 Time NWA TV Champion, Tempers is also an entrepreneur. You can purchase his own signature "fragrance" the body spray "Temptation For Men" at www.thetemptation.net . Tempers excels in techincal and power wrestling, and adapts well to any style of opponent. He wrestles as much with his brain as he does with his brawn and there is no shortcut he won't take to win. His deadliest offensive weapon is his Hangman's Neckbreaker that he can hit seemingly from out of no where.
Ace Rockwell has already gained a great deal of singles success. He's the current NWA Southern Champion, he's been NWA Anarchy Heavyweight, TV and Tag Team Champion, and has held several other championships in several other territories. He also recently appeared on an episode of the Lifetime Original Series "Coming Home" where Rockwell surpised a U.S. Soldier returning stateside with one of his favorite things, in this case....wrestling. Rockwell continues to pursue opportunities in TV & Film, but nothing will keep him away from his 1st love. He wrestles a very unorthodox style for a fan favorite, and is never above stooping down to a rulebreaker's level as long as he's returning a favor. He can absorb an amazing amount of punishment and keep going, and he continues to learn new techniques and training methods. He feels he'll never stop learning, and Rockwell keeps a rigorous training schedule both in the gym and in the ring. He finishes opponents with the "Ace's High" (his version of the Diamond Cutter), which like Tempers' neckbreaker, can also be hit from almost any position.
So on June 25th 2011, one of the most storied NWA rivalries of the last decade comes full circle. To the arena where they made their names, against the opponents they made them against....each other. Ace Rockwell vs. Shaun Tempers...one more time. This time, as far as the oldest and largest sanctioning body in wrestling is concerned, it's for the 2nd most important wrestling championship in the entire world. Their record against each other is almost 50/50 in over 100 contests. On June 25th at the NWA Arena in Cornelia, GA, for the NWA North American Heavyweight Championship.....it's anybody's match.