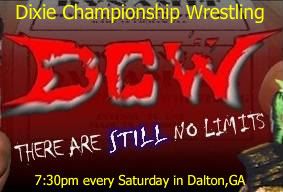 Dixie Championship Wrestling's "Violencetines Day" this Saturday, 02/27/10, in Dalton, GA
- from DCW
AFTER WEEKS OF ANTICIPATION, SHOCKING TWISTS, AND BRUTAL ATTACKS, VIOLENCETINE'S DAY HAS FINALLY ARRIVED. HEARTS WILL BE BROKEN AS WELL AS BODIES. HERE ARE SOME THINGS TO EXPECT.
IN THE HOLIDAY SPIRIT, WE WILL HAVE A VIOLENT VIXENS BATTLE ROYAL THAT WILL SEE ALL THE LOVELY LADIES OF DCW COMPETE IN A OVER THE TOP ROPE BATTLE ROYAL. WE KNOW THESE LADIES CAN GET ROUGH, NOW WE WILL GET TO SEE ALL OF THEM GO AT IT AT THE SAME TIME!
IN SIX MAN TAG ACTION WE WILL SEE THE TEAM OF BOBBY BLAZE, DAVID GAGE, AND THE DOMINANT DOOMSDAY TAKE ON TRISTIAN DANIELS AND THE NEW NUMBER ONE CONTENDERS FOR THE TAG TEAM TITLES, AARON G AND BIG RED.
AFTER TURNING HIS BACK ON THE DCW FANS, WES BLAZE HAS DEMANDED A MATCH WITH JOEY IDOL. AFTER WEEKS OF BRUTAL ATTACKS AND A SPINEBUSTER TO AMBER YOUNG, JOEY HAS FINALLY AGREED AND THE TWO FORMER BROTHERS WILL DO BATTLE.
BROTHER FUSION HAVE BEEN ON A MISSION TO CLAIM THE TAG TEAM TITLES FROM THEIR RIVALS THE RYMERS. NOW THEY GET THEIR CHANCE IN A ULTIMATE SACRIFICE MATCH. THE FIRST FALL WILL BE PINFALL ONLY. THE SECOND, BOTH MEMBERS OF A TEAM MUST TAP OUT. THE THIRD, IF NEEDED, WILL BE A LAST MAN STANDING MATCH. THE WINNERS, WILL WALK OUT AS THE DCW TAG TEAM CHAMPIONS AND FACE THE TEAM OF AARON G AND BIG RED ON MARCH 6TH.
RICK HAYES HAS CHALLENGED DCW COMMISSIONER JOHNNY BLAZE TO A MATCH. HE HAS ACCEPTED, BUT HASN'T BEEN ABLE TO TOUCH RICK. THIS SATURDAY, AFTER WEEKS OF PROVOKING, JOHNNY WILL FINALLY BE ABLE TO HIT RICK AS THEY FACE OFF IN A TENNESSEE DEATH MATCH.
CHAD "THE BAD" CASE HAS NOT BEEN CLEARED TO COMPETE BY DOCTORS, BUT IS HELL BENT ON GETTING HIS HANDS ON THE ALLSTAR. SEEING AS HOW CHAD HAS FOUGHT TO GET THIS MATCH FOR MONTHS, DCW WILL NOT SANCTION THE MATCH. THEREFORE, IT WILL BE A NON-SANCTIONED STREET FIGHT BETWEEN THE FORMER FRIENDS.
SHAWN BELL WAS CONFIDENT HE COULD DO WHAT DAVID FAILED, BEAT TOMMY GAGE. HE WILL GET HIS CHANCE THIS SATURDAY, BUT HE MIGHT HAVE GOTTEN MORE THAN HE BARGAINED FOR. BELL WILL FACE TOMMY IN A ASYLUM MATCH, WHERE THE ROPES WILL BE WRAPPED IN BARBED WIRE, THERE WILL BE LIGHT TUBE TABLES, 3,000 THUMBTACKS, AND THE FANS GET TO BRING WEAPONS! NEITHER MAN WILL BE THE SAME AFTER THIS ONE!
OREO AGREED TO A CANADIAN RULES MATCH AGAINST JOHNNY VIPER FOR THE DCW TITLE. HOWEVER, WHAT VIPER DID NOT MENTION UNTIL NOW, IS THAT IN CANADIAN RULES, THE CHALLENGER MUST DEFEND HIS NUMBER ONE CONTENDER SPOT BEFORE HE GETS THE TITLE MATCH TO PROVE THAT HE IS WORTHY. THEREFORE, OREO WILL PUT HIS NUMBER ONE CONTENDERSHIP AT STAKE AGAINST MATT GILBERT AND PSYCHO SCOTT. IF OREO WINS, HE FACES VIPER FOR THE TITLE ON MARCH 6TH. IF MATT GILBERT WINS, HE GETS HIS REMATCH AGAINST JUSTON HARDT ON MARCH 6TH. IF PSYCHO SCOTT WINS, HE AND MATT GET A SHOT AT THE TAG TEAM TITLES. WITH ALL THREE MEN WITH SOMETHING TO FIGHT FOR, THIS ONE WILL BE ONE YOU WON'T WANT TO MISS.
SO DON'T MISS THIS GREAT NIGHT OF ACTION! IT WILL BE ANOTHER SHOW FOR THE HISTORY BOOKS! BE A PART OF HISTORY THIS SATURDAY NIGHT. BELL TIME IS AT 7:30PM. 1243 CAVENDER ROAD, DALTON, GA.