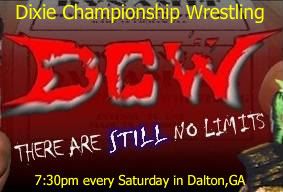 Results: Dixie Championship Wrestling, 02/06/10, from Dalton, GA

- from DCW

Johnny Blaze called out Tommy Gage. Tommy talked about his match with David and how he loved the pain. Thanked the fans for swinging hard. Called out Shawn Bell for interfering in the match. Fans started a tinker bell chant. Bell said that David wasn't ready for Tommy, but he is. Tommy challenged Bell for Violencetine's Day. Bell accepted. They both left.

Johnny went to start the show, but Brothers Fusion, Big Russ, Samantha Love, and Matthew Collins came out. Brandon Collins said they saw potential in Samantha, and she took out Hailey Rage last week. She is now their new valet. Jason then introduced Big Russ as the muscle. Saying the south has no talent so they brought it to the south. He then introduced their father, Matthew Collins. Matt got the mic and talked about Johnny being washed up. Saying he used to be a legend alongside names like Ric Flair and Jake Roberts. Now he is nothing but a worthless commissioner that holds his son back. Talked about Brother Fusion taking out Talon. Joey Idol came out talking about how they all needed to shut up and revealed that Russ is Joey's brother. He then challenged Brother Fusion saying he did not need a partner. Johnny wouldn't allow it without a partner. Joey traded in his gold rush contract to get any match he wanted. Johnny agreed. Main event set, Joey Idol vs. Brother Fusion.


THE OPENING MATCH OF THE EVENING WAS WICKED DYNASTY (SHAWN BELL & DAVID GAGE) TAKING ON AARON G W/ BRIANA & BIG RED. THE BIG QUESTION IN THIS MATCH WAS WHAT KIND OF SHAPE WAS DAVID GAGE IN AFTER HIS BRUTAL LUMBER STRAP MATCH AGAINST TOMMY GAGE ONLY A WEEK AGO. THE CROWD GOT BEHIND RED AND AARON AS BELL AND AARON STARTED THE MATCH OFF. AARON DISPLAYED THEIR POWER AS THEY TAGGED IN AND OUT. HOWEVER, THE SPEED OF BELL AND GAGE ALLOWED THEM TO TAKE CONTROL OF THE MATCH. WICKED DYNASTY ZEROED IN ON AARON'S ARM. AARON WAS ABLE TO HIT A SPINEBUSTER OUT OF NOWHERE. BOTH RED AND BELL WERE THEN TAGGED IN. RED ONCE AGAIN USED HIS POWER TO REGAIN CONTROL OF THE MATCH. THE MATCH ENDED WITH AARON AND RED PICKING UP THE WIN AFTER RED HITS THE SAMOAN DROP ON DAVID GAGE.

NEXT UP WAS A TRIPLE THREAT MATCH BETWEEN "REDNECK" RICK HAYES, CHAD "THE BAD" CASE AND, MAKING HIS DCW RETURN, "THE CICSO KID" TRISTIAN DANIELS. AS THE BELL RANG, RICK QUICKLY REALIZED HE WAS OUT NUMBERED IN THE MATCH. TRISTIAN AND CHAD TOOK TURNS BEATING ON RICK. AFTER A LONG BEATING, RICK WAS ABLE TO TOSS CHAD OUT OF THE RING AND TAKE CONTROL ON TRISTIAN. HOWEVER, RICK GOT VERY FEW PUNCHES IN BEFORE CHAD SLIDE BACK IN THE RING AND BEAT HIM DOWN ONCE AGAIN. ONCE AGAIN RICK TOOK DOWN CHAD AND TRISTIAN THEN, AS A SURPRISE TO FANS, GOT HIS STUFF AND LEFT THE MATCH. THIS LEFT CHAD AND TRISTIAN ALL ALONE. AFTER SOME QUICK BACK AND FORTH ACTION, TRISTIAN MISSED A FROG SPLASH. THIS ALLOWED CHAD CASE TO APPLY A CROSSFACE. TRISTIAN FOUGHT TO GET TO THE ROPE BUT PASSED OUT BEFORE HE COULD GRAB IT. THIS GAVE CHAD CASE THE WIN. AFTER THE MATCH CHAD WOKE UP TRISTIAN AND THE TWO MEN HUGGED.

TOMMY GAGE TEAMED WITH DRACO TO TAKE ON BOBBY BLAZE AND, MAKING HIS DCW DEBUT, JOE HOLIDAY. DRACO AND JOE STARTED THE MATCH. DRACO HAD THE ADVANTAGE IN THE MATCH TAKING DOWN JOE AND BOBBY AS THEY TAGGED IN AND OUT TO TRY TO GET THE ADVANTAGE. DRACO THEN TAGGED IN TOMMY WHO CONTINUED THE ASSAULT ON BOBBY. HOWEVER, WITH A RAKE OF THE EYES, THE ADVANTAGE SUDDENLY SWITCHED. BOBBY CUT THE RING IN HALF AND KEPT TOMMY FROM TAGGING IN DRACO. DRACO WAS FINALLY TAGGED IN AND THE MATCH ENDED WITH DRACO PICKING UP THE WIN.

NUMBER ONE CONTENDER FOR THE DCW CHAMPIONSHIP, OREO, HAD A TOUGH TASK A HEAD OF HIM AS HE TOOK ON BIG RUSS JONES W/ MATT COLLINS. AS THE MATCH STARTED, MATT DISTRACTED OREO, ALLOWING BIG RUSS TO ATTACK OREO. THE MOMENTUM CHANGED SIDES SEVERAL TIMES IN THIS MATCH. OREO WAS ABLE TO GET THE WIN, SHOWING JUST WHY HE IS THE NUMBER ONE CONTENDER TO JOHNNY VIPERS DCW TITLE.

SPEAKING OF "THE WORLD'S GREATEST ATHLETE" JOHNNY VIPER. THE DCW CHAMPION WAS IN ACTION NEXT AS HE DEFENDED HIS TITLE AGAINST WES "OMG" BLAZE IN A BLINDFOLD MATCH. IF WES WON, HE WOULD FINALLY REALIZE HIS DREAM OF BECOMING THE DCW CHAMPION. BUT, IF WES LOST, HE WOULD NEVER GET ANOTHER SHOT AT THE TITLE AGAIN AS LONG AS VIPER WAS THE CHAMPION. AFTER COMPLAINING THAT HE COULDN'T SEE WITH HIS BLINDFOLD ON, VIPER MADE THE REF PUT WES'S BLINDFOLD ON. VIPER THEN ATTACKED WES. FINALLY VIPER PUT HIS BLINDFOLD ON AND THE MATCH BEGAN. THE CROWD WAS A BIG HELP TO WES FINDING WHERE VIPER WAS. BUT VIPER WOULD MOVE JUST BEFORE WES GOT TO HIM. AS VIPER MOVED, HE BACKED INTO THE TURNBUCKLE AND PROCEEDED TO BEAT THE TURNBUCKLE. THE TWO MEN FINALLY BACKED INTO EACH OTHER AND THE FIGHT WAS ON. WES GOT THE ADVANTAGE AND HIT A BIG SUPLEX ON VIPER BUT VIPER ROLLED OUT OF THE RING. AS WES FELT AROUND IN THE RING, VIPER WAS OUTSIDE THE RING LOOKING FOR WES OUTSIDE THE RING. NOT KNOWING WHERE HE WAS, VIPER WALKED INTO THE RING POST. VIPER GOT BACK INTO THE RING AND PULLED HIS BLINDFOLD UP TO SEE WHERE HE WAS. HE THEN ATTACKED WES. THIS HAPPENED A FEW TIMES. AS WES LOOKED FOR VIPER AGAIN, VIPER GRABBED REF BOB'S HAND AND HANDED IT TO WES. WES PICKED UP BOB FOR THE OMG MOMENT. VIPER THEN LIFTED HIS BLINDFOLD AND LOW BLOWED WES. THEN HIT THE DOWNWARD SPIRAL FOR THE WIN. OREO THEN CAME INTO THE RING AND HAD A STARE OFF WITH THE DCW CHAMPION, VIPER. THESE TWO MEN WILL FACE OFF ON FEBRUARY 27TH FOR THE DCW CHAMPIONSHIP.

JUSTON HARDT MADE HIS DCW DEBUT AS HE TOOK ON MATT "FREAKIN" GILBERT IN THE MATT GILBERT INVITATIONAL TOURNAMENT. MATT HAS NOT LOST IN HIS TOURNEY. MATT TRIED TO DO SOME CHAIN WRESTLING BUT HARDT WAS TOO FAST. HE WAS ABLE TO REVERSE EVERYTHING MATT TRIED TO DO. MATT WAS ABLE TO HIT A BIG POWERBOMB ON JUSTON, BUT WAS UNABLE TO PUT AWAY HARDT. JUSTON HIT A FEW DIVES AS THE FANS QUICKLY GOT BEHIND HARDT. MATT WAS FINALLY ABLE TO GET CONTROL OF THE MATCH. MATT USED EVERY MOVE HE HAD IN HIS ARSENAL BUT COULDN'T PUT JUSTON AWAY. JUSTON LOCKED IN HIS FINISHER, THE SHARPSHOOTER. MATT WAS IN THE SHARPSHOOTER FOR 30 PLUS SECONDS. HOWEVER, TIME EXPIRED AS MATT TAPPED OUT. THE MATCH WAS RULED A TIME LIMIT DRAW AS TIME EXPIRED A SECOND BEFORE MATT STARTED TO TAP. JUSTON TRIED TO SHAKE HANDS BUT MATT REFUSED. MATT THEN SAID T WASN'T OVER BETWEEN THE TWO MEN, AND THEY WILL MEET AGAIN. JUSTON THEN BOWED TO ALL THE FANS.

THE RYMER BOYZ (EVAN & KEVAN) DEFENDED THEIR TAG TEAM CHAMPIONSHIPS AGAINST DCW'S NEWEST TAG TEAM, DOOMSDAY & THE ALLSTAR. THE WORD IN THE DCW RUMOR MILL IS THAT DOOMSDAY AND ALLSTAR ARE CALLING THEMSELVES TEAM ALL-DOOM. WE HERE AT DCW CAN NOT CONFIRM THIS STORY AT THIS TIME. BEFORE THE MATCH, HAILEY RAGE SENT A MESSAGE TO BROTHER FUSION & SAMANTHA LOVE. EVAN RYMER GOT THE UPPER HAND WITH HIS SPEED AND A DIVE TO THE OUTSIDE ON ALLSTAR. ALLSTAR THEN USED HIS POWER TO GAIN THE UPPER HAND. DOOMSDAY WAS DOMINATE. HE HAD A LOT OF POWER. KEVAN HIT A FLYING FOREARM TO KNOCK ALLSTAR DOWN. ALLSTAR GOT UP AND GOT ON KEVAN BEFORE KEVAN COULD MAKE THE TAG. DOOMSDAY TAGGED BACK IN AND PUT KEVAN IN A BEARHUG. KEVAN WAS ABLE TO BREAK THE HOLD, BUT DOOMSDAY SLAMMED DOWN KEVAN. DOOMSDAY THEN BEGAN WORKING KEVAN'S BACK. KEVAN HIT A SUPERKICK, BUT WAS UNABLE TO MAKE THE TAG. ALLSTAR THEN TAGGED IN AND HIT THE ALLSTAR SLAM ON KEVAN. AS ALLSTAR WENT FOR THE PIN, CHAD CASE CAME OUT AND LAID OUT THE ALLSTAR. DOOMSDAY THEN ATTACKED CHAD, KNOCKING HIM OUT OF THE RING. THE RYMERS THEN CAME IN AND ATTACKED DOOMSDAY BUT DOOMSDAY HIT A DOUBLE FINAL JUDGMENT ON THE RYMERS. CHAD GRABBED A TRASH CAN LID AND HIT DOOMSDAY, BUT IT HAD NO EFFECT. DOOMSDAY STARES DOWN CHAD, BUT LEFT WITH ALLSTAR. CHAD HELP UP THE RYMERS WHO RETAINED THEIR TITLES, WINNING THE MATCH VIA DISQUALIFICATION.

"THE ONE" JOEY IDOL TOOK ON BROTHER FUSION (BRANDON & JASON COLLINS) W/ MATT COLLINS & SAMANTHA LOVE. JOEY IDOL SHOWED OFF HIS POWER, BUT JASON TOOK OVER QUICKLY. JASON THEN TAGS IN BRANDON. BRANDON AND JOEY THEN EXCHANGED RIGHT HANDS. JOEY ROLLED UP BRANDON FOR A TWO COUNT. BRO. FUSION THEN TOOK BACK CONTROL OF THE MATCH AS THE NUMBERS GAME BECAME TOO MUCH TO OVERCOME FOR JOEY. BRO FUSION WENT FOR NUMEROUS PINFALLS BUT JOEY KEPT KICKING OUT. JASON MISSED A LEG DROP AND JOEY HIT A MAFIA KICK. HOWEVER, BRANDON JUMPED RIGHT BACK ON JOEY. JOEY HIT A SPINEBUSTER OUT OF NOWHERE. BUT JOEY COULDN'T CAPITALIZE. BRO FUSION STILL TRIED BUT COULDN'T PUT JOEY AWAY. AS JOEY WENT TO HIT THE PEDIBREAKER, BIG RUSS ATTACKED JOEY, CAUSING A DISQUALIFICATION. WES THEN SLID INTO THE RING AND CLEANED HOUSE, BUT SUPERKICKED JOEY IDOL OUT OF NOWHERE. THE SHOW ENDED WITH WES BLAZE STANDING OVER THE LIFELESS BODY OF HIS "FORMER" FRIEND, JOEY IDOL.