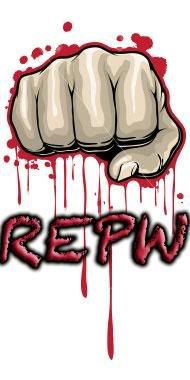 Revolution Elite Pro Wrestling's "Caged Madness", February 20, 2010, at the National Guard Armory in Covington, GA.
- from REPW
Already signed for this event is Billy Jack's "one last chance" to defeat Vicious Vic Roze for the REPW Heavyweight Championship. These two men battled all over the armory on the past two events, with Billy Jack being carried out on a stretcher in December. The would return last month to wage war once again and this incredible TLC match finally had to be stopped by special guest referee Nick Patrick due to the excessively incredible blood loss by both men. And when the bell rang, they still refused to quit, the lockerroom had come out and physically seperate the two. Now these two mortal enemies are going to be locked inside a steel cage, in a what is expected to be Billy Jack's last title shot for some time. Should he come up short in this attempt, he will have to work his way back into the title picture, so you know just how intense he is going to be. Who knows, the man that finally loses this caged insanity may never be seen in a wrestling ring again!
Also signed is a big 6-man tag match, pitting Mortochai, Chip Day & REPW Georgia Heritage Champ DeMarco Knight against Criminal Intent members Johnny Law and Steve & Bobby Bennett. Johnny, Bobby, & Terry Lawler invaded REPW in January, attacking REPW Tag Team Champions The Funky Fresh Boyzz and then informing REPW C.O.O. Bradford Davis Bates that they were intent on taking over the company and winning all the titles. Bates booked the 3 men in a tag team match, telling them that they could join REPW if they won the match. They would face stiff competition in the form of Mortochai, Chip Day, & Flame. Flame was a masked newcomer that Bates considered his "ace in the hole", but was stunned as he witnessed Flame tuirn on Mortochai and reveal to the audience that he was in fact Bobby's brother Steve. Bates, furious that Steve betrayed him, allowed the matches decision to stand and welcomed Criminal Intent into REPW, warning them along the way that they "would not enjoy their stay!" Mortochai has now recruited an old ally in DeMarco Knight to join him and Chip Day as they seek retribution for the beat down they suffered at the hands of Criminal Intent.
On top of these two matches, Revolution Elite is also pleased to announce that it will be bringing back the old Bunkhouse Stampede match from the heyday of the NWA. For those not familiar with the Bunkhouse Stampede, it is a battle royal held inside a cage! The only way to be eliminated is to the be either thrown out the door of the cage or OVER THE TOP OF CAGE!! The last man remaining in the ring will be declared the winner and his prize will be the #1 contendership to the REPW Heavyweight Title!
More matches will be announced in the days ahead, and as always, the card is subject to change.
Doors open at 7:30 pm, belltime is 8:00 pm.