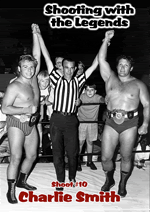 New Charlie Smith Shoot Interview DVD available from Crowbar Press
Charlie Smith embodies the true meaning of the words "wrestling legends." He got his start in wrestling in the Atlanta, Georgia area in the late 1950s, first wrestling at Lakewood Boys Club, and then refereeing for Ray Gunkel and Don McIntyre's promotion. For more than two decades, he made his living traveling from town to town, setting up the ring and refereeing in towns, both big and small, throughout the state. In later years, he promoted and booked shows in many of the smaller towns.
Some of the topics covered by Charlie include:
• His introduction to the wrestling business
• Wrestling with a semi-pro "outlaw" promotion
• Making a $7 investment to make $5
• Traveling and working with Freddie Blassie
• Working at the wrestling office for Ray Gunkel and Don McIntyre
• Selling tickets at the back door to avoid the fire marshall
• Referee Doug Smith "kills" promoter Ray Gunkel
• Life on the road and traveling to towns
• Getting blood the hardway
• "When two fools meet ..."
• Wrestling at the Atlanta Federal Penitentiary
• Doug Gilbert accepts Robert Fuller's challenge
• Juice and the blade
• "The entire crew and the night watchman, too."
• Life after wrestling
• Don and Ray Stevens
Click
here
to order the DVD for $18
Or, look for Charlie at a local show working his gimmick table and buy an autographed copy from him personally.