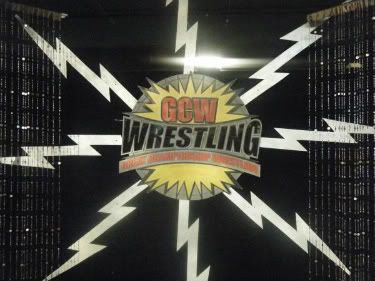 Results: Great Championship Wrestling, 04/21/10, in Phenix City, AL
Great Championship Wrestling opened up with the announcement that TNA superstar RAVEN would be making his return to GCW, on April 29th 2010. It's been announced that RAVEN will face the leader of the Conglomerate , Murder One, in a battle of two different generations of unorthodox brawlers, and masters of pyschological warfare.
The first match saw Jimmy the Kid and Eric Mayne defeat the team of A.R. FOX and NAVY Blue, when Eric Mayne/Jimmy the Kid hit a flying cross body/flying elbow combo respectively on Fox.
Ric King upset The Butcher by pinfall after Bull Buchanan ran out and nailed Butcher with his own steel chain. Buchanan later told GCWACTION.COM "an eye for an eye, he cost me my match last week, now he knows how it feels." From there, Buchanan would prepare for his match later on with Butchers stablemate, Sal Rinauro.
Mike Kross retained the GCW Interstate Championship against Kyle Matthews, after hitting the sliced bread on his opponent to pick up the win. Afterwards, Matthews, who seemed very distracted, became further distraught when it was announced that next week, Stalker will return to Great Championship Wrestling, and face Matthews..in a CASKET MATCH.
Nation finally scored his first win in GCW, pinning Marvelous Michael Stevens in just under ten minutes, following an impressive standing shooting star press.
Bull Buchanan defeated Sal Rinauro by dq, when the Butcher ran in and clipped Bulls leg with the metal chain. Rinauro had dedicated most of the match to working over Buchanans wheel, which was further assaulted when Butcher nailed it repeatedly with the metal chain, until Mike Kross ran out with a chair to make the save. GCW has announced a tag team match for April 29th, featuring Sal Rinauro and The Butcher vs. Mike Kross & Bull Buchanan.
Scott Steele defeated Johnny Swinger by dq, when Swingers temporary alliance with Murder One quickly dissolved. For weeks in backstage segments, Murder One has been taking shots at the GCW Juggernaut, but tonight it seemed like they were aligned in the hope of resting the GCW Championship away from Steele. However, in the end, when Swinger held Steele wide open for Murder to crack the champion with his own belt, Steele ducked out of the way, and Murder One hit Swinger. Many people wondered whether or not Murder hit Swinger by accident, or on purpose, as there seemed to be a delay between the time Steele ducked, and Murder swung. None the less, Steele hit a spear on Murder and quickly covered Swinger for the three count, to end the show.
Afterwards, GCWACTION.COM had announced that due to the complex nature of the main events ending, Johnny Swinger has filed an injunction to get an immediate re-match, barring any outside interference. The only problem is, currently, Scott Steeles next contractual title defense isn't until May 6th, and thats when Steele will defend the championship against former champion Murder One...who just so happens to be the man who cost Swinger the match tonight.
GCW is expected to make a formal announcement this weekend concerning the situation, as well as update the final card for May 6ths Mega Mayhem, which will feature all the active GCW Championships on the line, a Dog Collar Match, an announcement concerning the Tag Team Title situation, and much more.
The final stop before Mega Mayhem, is this Thursday, when GCW presents TNA SUPERSTAR RAVEN, live in Phenix City, April 29th , from the GCW arena. Raven will face Murder One; also slated is the much anticipated Kyle Matthews vs. Stalker battle, Mike Kross/Bull Buchanan vs. Sal Rinauro/The Butcher, and the first ever GCW meeting between The Wrestling Hybrid Orion Bishop, and the GCW Juggernaut Johnny Swinger!