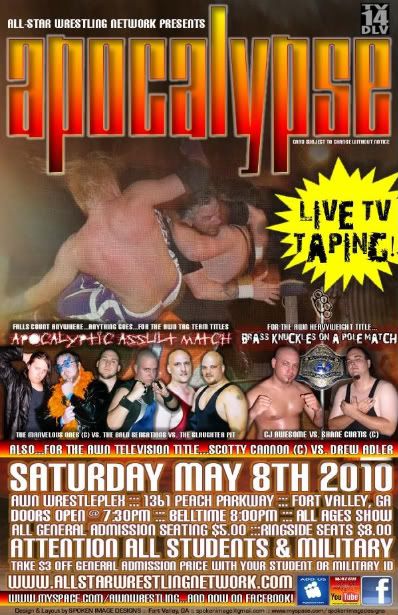 Results: All-Star Wrestling Network, 04/24/10, from Fort Valley, GA
IRISH CARBOMB vs "DANGEROUS" DANNY HORNE/DL NORRIS w/ANTWAN JORDAN
Winner: The Irish Carbomb (Via the Shining Wizard then into a German Suplex) (DL Norris never competed in this match as he completely ignored Danny Horne's attempts to tag out. After the match DL handcuffed Danny to the rope as Antwan and DL went to work on Danny Horne)
"THE TICKING TIME BOMB" CHRIS NELMS VS CHRISTIAN WALKER
Winner: Chris Nelms (Via sit down powerbomb)
DEMENCHIA VS BUBBA RAGE (Inter-Gender Match)
Winner: Demenchia (Bubba Rage hit Demenchia with the AWN WOMENS TITLE. After match he then grabbed a chair but partner CJ Awesome came out and calmed him down)
PAUL WARFIELD VS SCOTT CAGE
Winner: Paul Warfield
After Intermission the Marvelous Ones came out and had several flyers for Apocalypse in their hands. They wanted answers because they thought it would be the Marvelous Ones vs Slaughter Pit? The Commissioner Don Anderson came out and told them that the Beautiful Bald Sensations has cashed in on their rematch and they want it at Apocalypse! Now with that said the commissioner said that the BBS rematch clause has it to where they can name any stipulation they want for their rematch....That is why the flyer has the BBS vs The Marvelous Ones vs Slaughter Pit in an APOCALYPTIC ASSAULT MATCH!
SCOTT CANNON/DIRTY DAWG VS DREW ADLER/MIKE KROSS
Winner: Drew Adler/Mike Kross (via the Adler Air Strike on Dirty Dawg)
"THE REAL DEAL" JAKE SLATER VS "THE MONSTER" PAIN
Winner: "The Monster" Pain (via press slam followed by the Samoan Drop)
GENERATION NOW (Shane Curtis/Qball/Zac Edwards/J-Stakka VS CJ AWESOME/IRONWIL/MARVELOUS ONES
Winner: Generation Now (Via Shane Curtis hitting CJ Awesome with his signature move the "Spermicide").