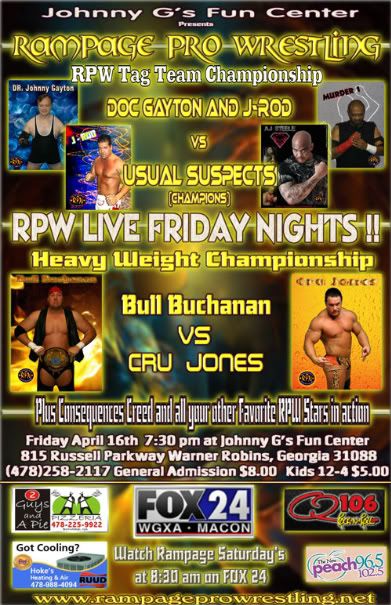 Rampage Pro Wrestling this Friday night, 04/16/10, in Warner Robins, GA
Rampage Pro Wrestling television taping on Friday, April 16 at 7:30 pm at the RPW Arena @ Johnny G's at 815 Russell Parkway, Warner Robins, GA 31088. Tickets are $8 for ages 13 and up, $5 for ages 4-12, and free for children 3 and under. Call 478-258-2117 for more information. Card is subject to change.
RPW Tag Team Championship
J-Rod & Dr. Johnny Gayton vs. The Usual Suspects ©
J-Rod has found himself on a collision course as of late with the RPW Tag Team Champions, The Usual Suspects. Ever since being violently turned on by Cru Jones way back on February 19 in an attempt to regain the titles, J-Rod's attempt to find a new partner has been quite a roller coaster ride. With Colt Derringer's sudden decision to retire from professional wrestling, Mr. Jones needed a partner to face the Suspects for the gold on April 2. While his issue with Cru Jones is not resolved by any means, J-Rod saw this as a chance to get the biggest title he's ever held in RPW back and took the opportunity. The match ended in a double countout, as Jones and A.J. Steele let their brawl spill to the outside, ignoring referee Jeff McGowan's 10-count. Later in the night during the Countdown to Doom match after Team Rampage emerged victorious, a still-enraged Dr. Johnny Gayton grabbed a microphone and said they all wanted more of the Apocalypse. RPW Commissioner Nick Patrick came out and granted Gayton his wish: on Friday night, April 16, the Usual Suspects will defend the RPW Tag Team Titles against J-Rod & Dr. Johnny Gayton!
RPW Heavyweight Championship
Cru Jones vs. Bull Buchanan ©
One issue that has also yet to be resolved in RPW is the never-ending situation between RPW Heavyweight Champion Bull Buchanan and RPW Intercontinental Champion Cru Jones. The only match these two have had with a definitive, clean ending has been on February 5 for the Intercontinental Title, which was vacated by Jimmy Rave due to his broken nose. On the contrary, every match these two superstars have had for the Heavyweight championship has not ended definitively. In the last battle between these two on March 19, Cru Jones was awarded a disqualification victory when his nemesis, J-Rod, entered the fray and attacked Jones. After the match, Buchanan attacked J-Rod backstage, sending a message to the RPW locker room to stay out of his matches. Due to his disqualification victory, Cru is entitled to another championship opportunity. RPW Commissioner Nick Patrick has it signed, sealed, and set for Friday night, April 16, Buchanan will defend the RPW Heavyweight Championship against Cru Jones!
In addition to these two hot matches, Austin Creed and many, many more will also be in action!
Make sure you keep up with every outside-the-ring development with the stars of RPW by tuning in to our weekly television show. The show is available in the middle Georgia area on the following channels:
- FOX CHANNEL 24 at 8:30 am Saturday mornings
- COX CABLE 11 at 12 noon Saturdays, 7:00 pm Thursday nights
- VALLEY CABLE 7 in Fort Valley
Also, our weekly show is available ON DEMAND on the front page of our web site, which offers both a low- and high-bandwidth stream! New shows go up every Saturday afternoon.
If you're tired of "sports entertainment" on television being your only option for professional wrestling on Friday nights in middle Georgia, then come out to the RPW Arena @ Johnny G's Friday night, April 16, 7:30 pm for the hottest professional wrestling action anywhere in the southeast!