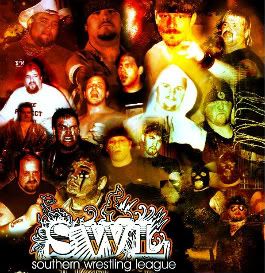 Results: Southern Wrestling League, 04/24/10, from Summerville, GA
- from SWL
1st MATCH:
MICHAEL CROSS W/ GENTLEMAN DAVE, LUKE PATTERSON & LAMAR PHILLIPS
VS
RED DRAGON, THE SUV & THE PATRIOT
SUV PINNED CROSS
2nd MATCH:
THUNDER & LIGHTING (GANZER & LIGHTING)
VS
THE GASS BOYS (B-BO & TOJO)
B-BO PINNED GANZER
3rd MATCH:
GA. TITLE MACTH
BRUISER EDEN W/ GENTLEMAN DAVE
VS
(C) TOO TALL SHORTTS
WINNER AND NEW GA. CHAMP BRUISER EDEN
4th MATCH:
DAKOTA OUTLAWS W/ MS. MORELAND
VS
DANGEROUS MINDS (HAYES & FLAMES)
OUTLAW #2 PINNED FLAMES
5th MATCH:
SOUTHERN TAG TEAM TITLE MATCH
MARK PAIN & WIL FORCE
VS
(C) JOHN ARDEN W/ AMANDA & DUSTIN FAMOUS
WINNERS ARDEN & FAMOUS BY DQ BC THE OUTLAWS CAME OUT AND JUMPED THE CHAMPS
DOUBLE MAIN EVENT
LOSER WEARS A DRESS
CHAD FULLER
VS
JOSH HATE
LOSER & WEARER OF THE DRESS CHAD FULLER
SOUTHERN HEAVYWEIGHT TITLE MATCH
SHOOTER EDEN W/ GENTLEMAN DAVE
VS
(C) PLOW BOY
WINNER AND NEW SOUTHERN HEAVYWEIGHT CHAMPION SHOOTER EDEN
AFTER THE MATCH THE FOUNDATION JUMPED PLOW BOY AND HCP MADE THE SAVE THEN JOHN ARDEN GOT ON THE MIC AND TOLD EVERYONE THAT PLOW BOY WAS HIS LITTLE BROTHER.
NEXT SHOW 5/29 LETHAL LOTTERY 2