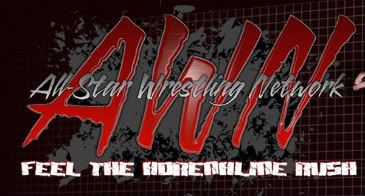 Results: All-Star Wrestling Network, 04/17/20, from Fort Valley, GA
- from AWN
The show opened with Commissioner Don Anderson fuming about what happened at the end of last week's show where Mike Money came out and reversed a decision that cost the Beautiful Bald Sensations the AWN TAG TEAM TITLES! He then introduced his new beautiful personal assistant "LEGS". He said that when he is not there that Legs will act on his behalf and will make the necessary decisions concerning AWN.
Then to the surprise of the Commissioner and the fans, "Superstar" J-Stakka's music hits and he cuts off Commissioner Don Anderson's promo. J-Stakka basically wanted to know what it would take for him to get with his new Assistant

Legs. Commissioner Don then told him that he was WAY OUT of his league that she was high class and that he was nothing, Commissioner Don went on to offer Stakka a deal. He told J-Stakka that he could be something if he was under his power. Commissioner Don then laid it down and told J-Stakka that if he could beat him he could have Legs, but if he lost that Commissioner Don would have his contract

.

H

e

would have to do anything the Commissioner or his personal assistant

Legs says. J-Stakka accepted. (Match started right after, both men in street clothes)

Match 1: Valet vs Contract:
Commissioner Don Anderson w/Legs vs J-Stakka
Winner: Commissioner Don Anderson

Match 2: DL Norris vs Douglas McGuiness
Winner: Douglas McGuiness

Match 3: Danny Horne vs CJ Awesome
Winner: CJ Awesome (CJ proved he was the #1 Contender for the AWN WORLD HEAVYWEIGHT TITLE – Awesome he was CJ had his hands full during this hard fought battle which was not an easy one with former AWN World Heavy Weight Champion "Dangerous" Danny Horne - Great win for CJ Awesome)

Match 4: Slaughter Pit vs The Beautiful Bald Sensations (BBS)
Match ended in a NO CONTEST! (There seemed to be a lot of friction between Q and Zac here after losing the Tag Titles last week. The opening promo that Zac does before the beginning of his matches was cut off by Q as both men exchanged words. They shoved each other several times and very hard tag-ins during the match. After the match Q left ringside as he watched Zac get crushed by the Slaughter Pit. It seems the tension is building between these two – you better stay tuned to see what develops next between the BBS.)

***"Marvelous" Michael Stevens, Leon McMichael, Drew Adler, and Mike Kross come out to celebrate

a

win the Marvelous Ones got last week. They danced as Michael Stevens sang. Commissioner Don Anderson interupted and told them that the fun was over and that it would be The Marvelous Ones facing Drew Adler and Mike Kross later tonight.***

Match 5: AWN TAG TEAM CHAMPIONSHIP The Marvelous Ones(C) vs Drew Adler/Mike Kross
Winners and still AWN TAG TEAM CHAMPIONS: The Marvelous Ones
(After the Match - Kross and Adler went back to the dressing room leaving Stevens and McMichaels at ringside) Q-Ball and Zac Edwards came out of no where but were cut off by the Marvelous Ones. J-Stakka came out as well but didn't get involved. But, Legs along with Ms.

Delta Rayne tried to get him to do something to even the score. He finally posted Iron Wil who was already at ringside with the Marvelous Ones. He got in the ring after Q and Zac had taken advantage but still didn't do anything as Q was telling him to help! CJ Awesome then went out to the ring Zac and J-Stakka leaving Q alone as Q-Ball felt the wrath of CJ Awesome! After CJ had Q down on the mat Shane Curtis from behind hit CJ with his devastating spinning neck breaker and gloated as he stood over him! Shane then took his frustrations out on the others. It appeared Curtis had snapped! Shane then had Security escort all the fallen junk out of the ring and said that he had a match to get ready for.

Main Event: AWN WORLD HEAVYWEIGHT CHAMPIONSHIP
Shane Curtis(C) w/Ms. Delta Rayne and Legs vs ASH w/Douglas McGuiness
Winner and still AWN WORLD HEAVYWEIGHT CHAMPION:Shane Curtis - Very good match that saw some of the best workers in AWN in Tag Teams as Ash looked very good in his match going solo. But Curtis was just a little too dominate on this occasion.